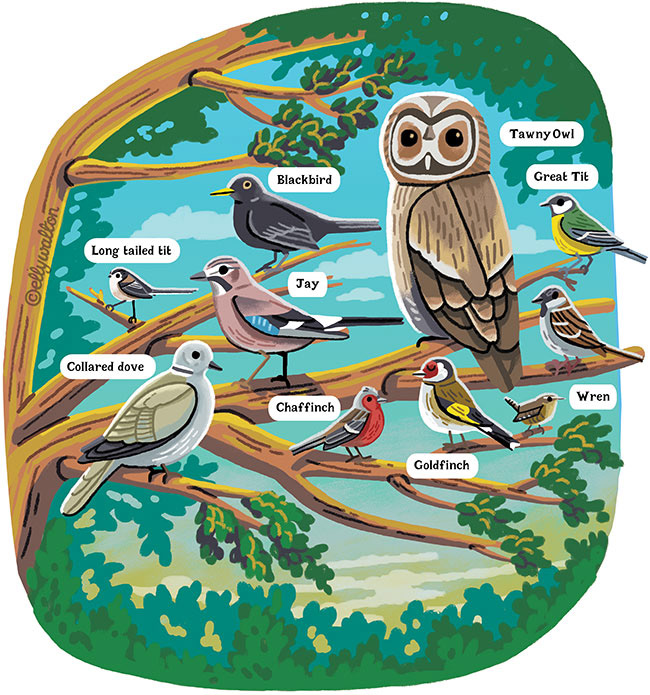 April 2020 - Nursery Management magazine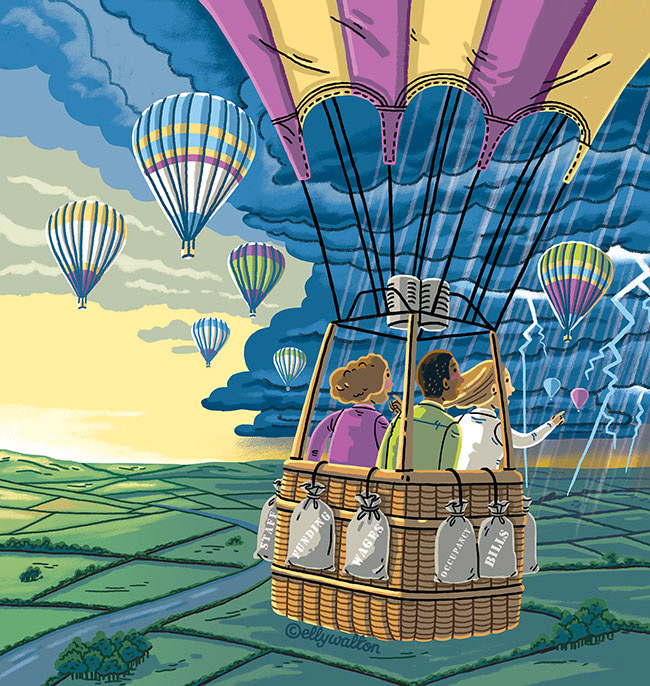 This cover illustration was for a piece on looming funding cuts in the nursery sector, worrying times ahead

April 2020 - Reader's Digest UK, Olly Mann column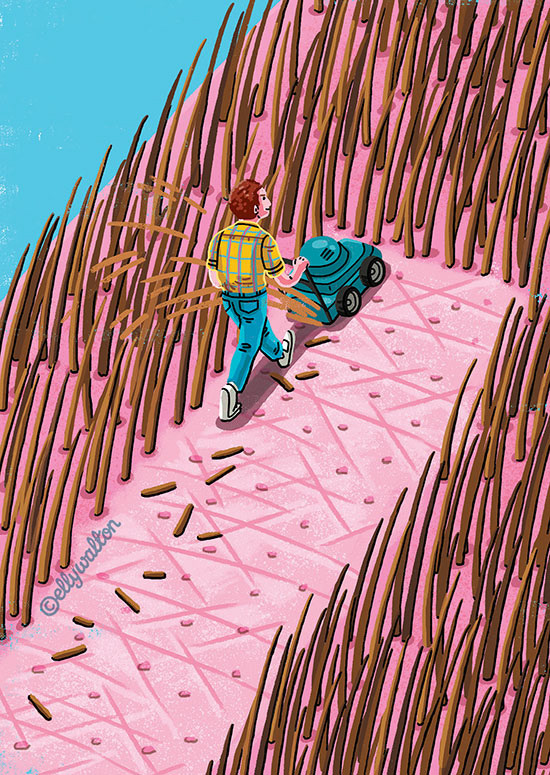 An illustration for the "It's a Mann's World" column by Olly Mann, on his problem of hair removal

April 2020 - Washington DC, Downtown map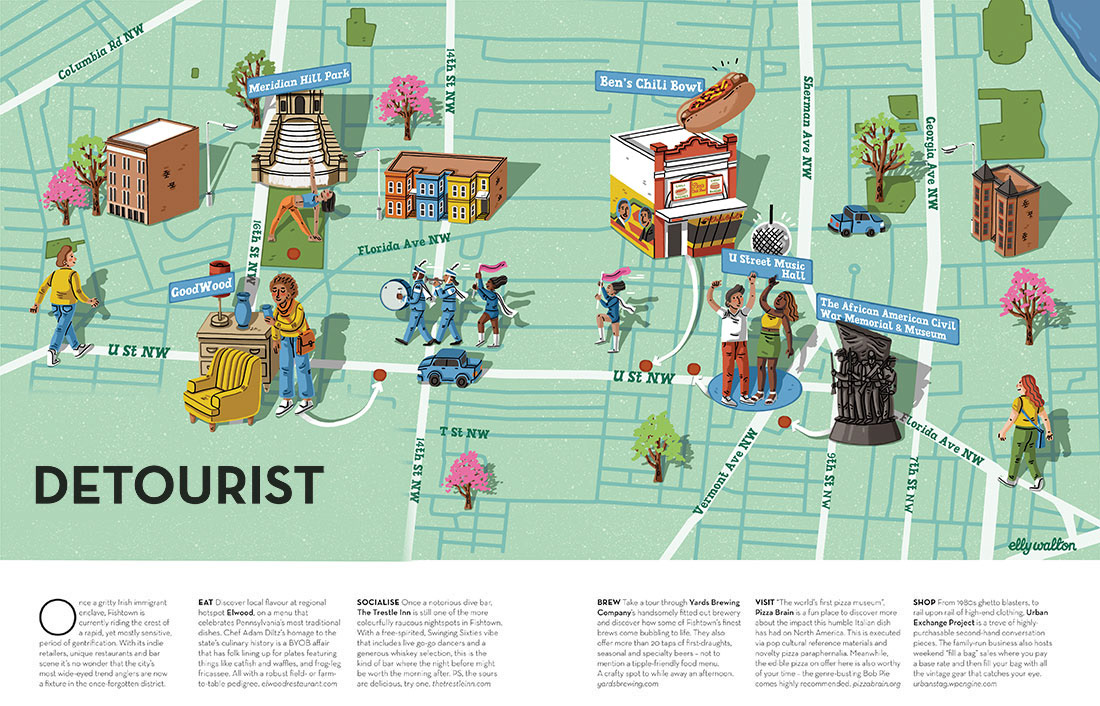 March 2020 - RCSLT 75th anniversary poster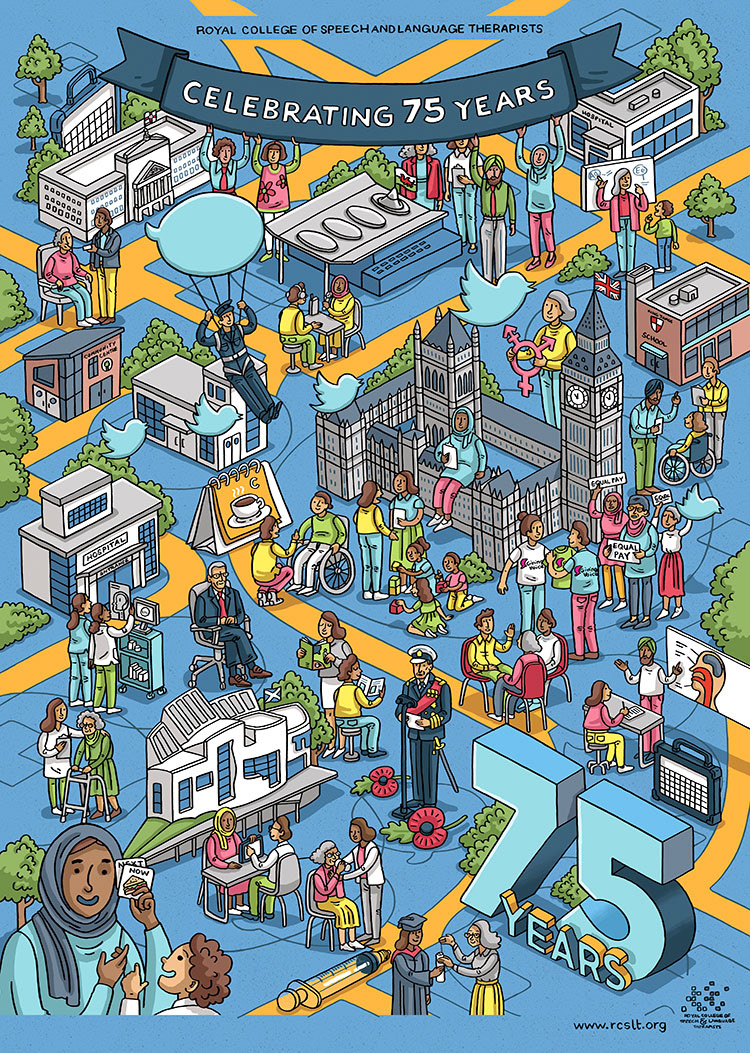 As part of the RCSLT's 75th year celebrations, they asked me to illustrate an A2 poster for their members, featuring some of the famous people who have had therapy, the services the college provides, and their service users, in a fun, engaging image

March20 - RCSLT website illustrations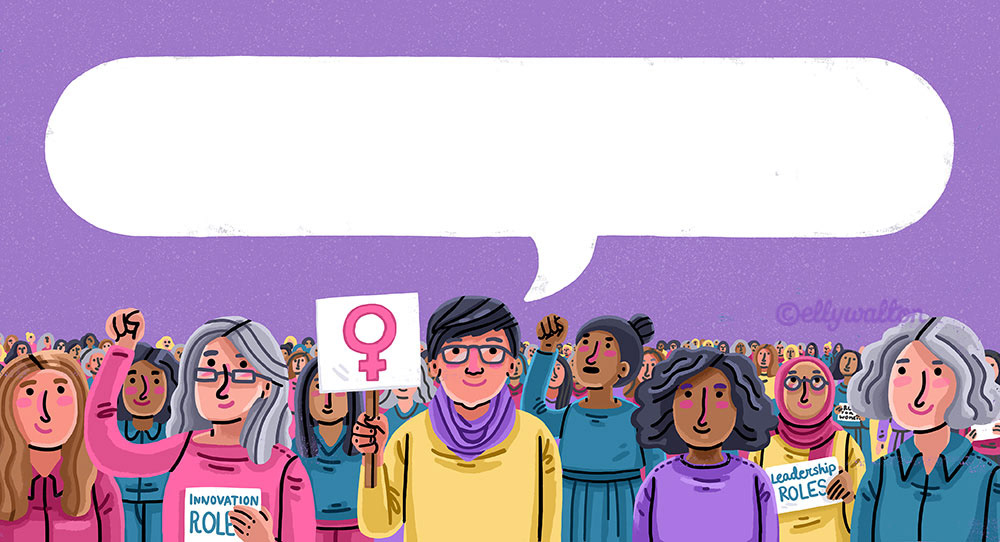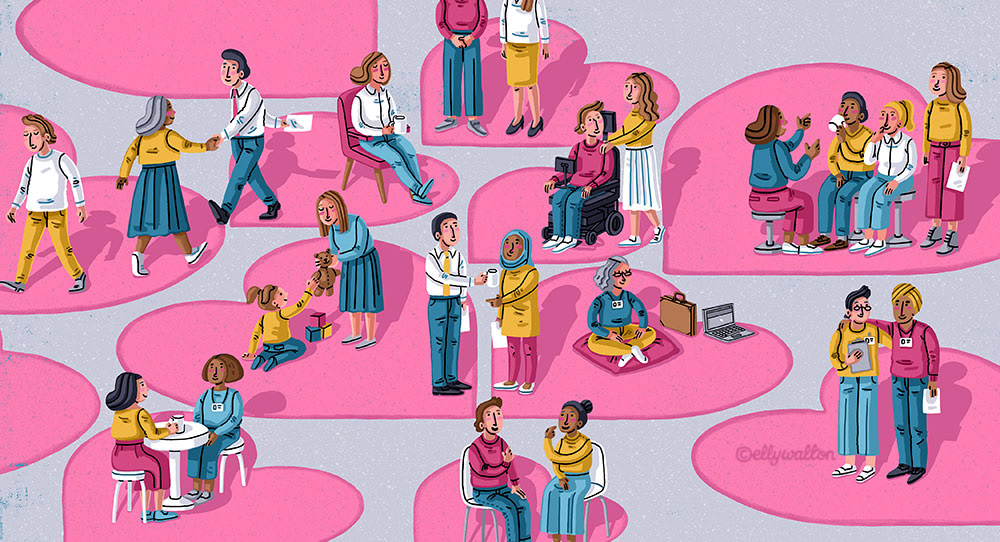 The Royal College of Speech and Language Therapists have asked me to produce an illustration for their website for every month of 2020, to celebrate their 75th anniversary year. February's theme was on love of the profession and the people that use speech and language therapy services. March was about the women that work in the profession and their future in the role

Jan 2020 - Escape magazine, map of South West UK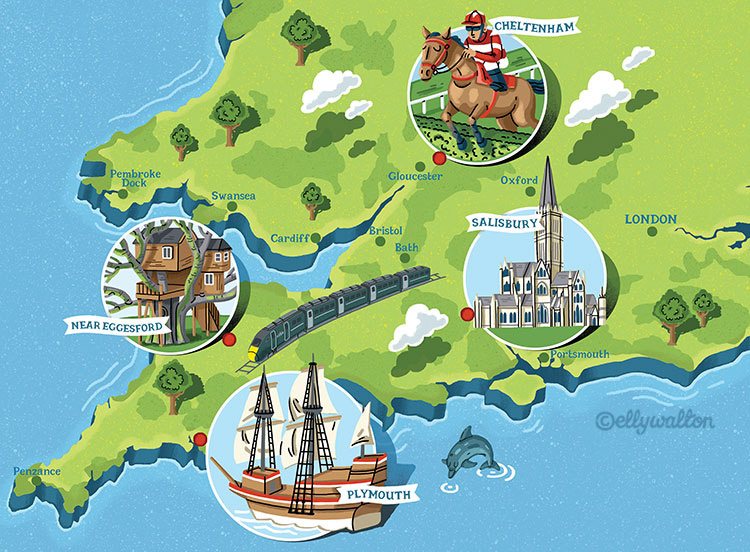 December 19 - American Way magazine, South Florida map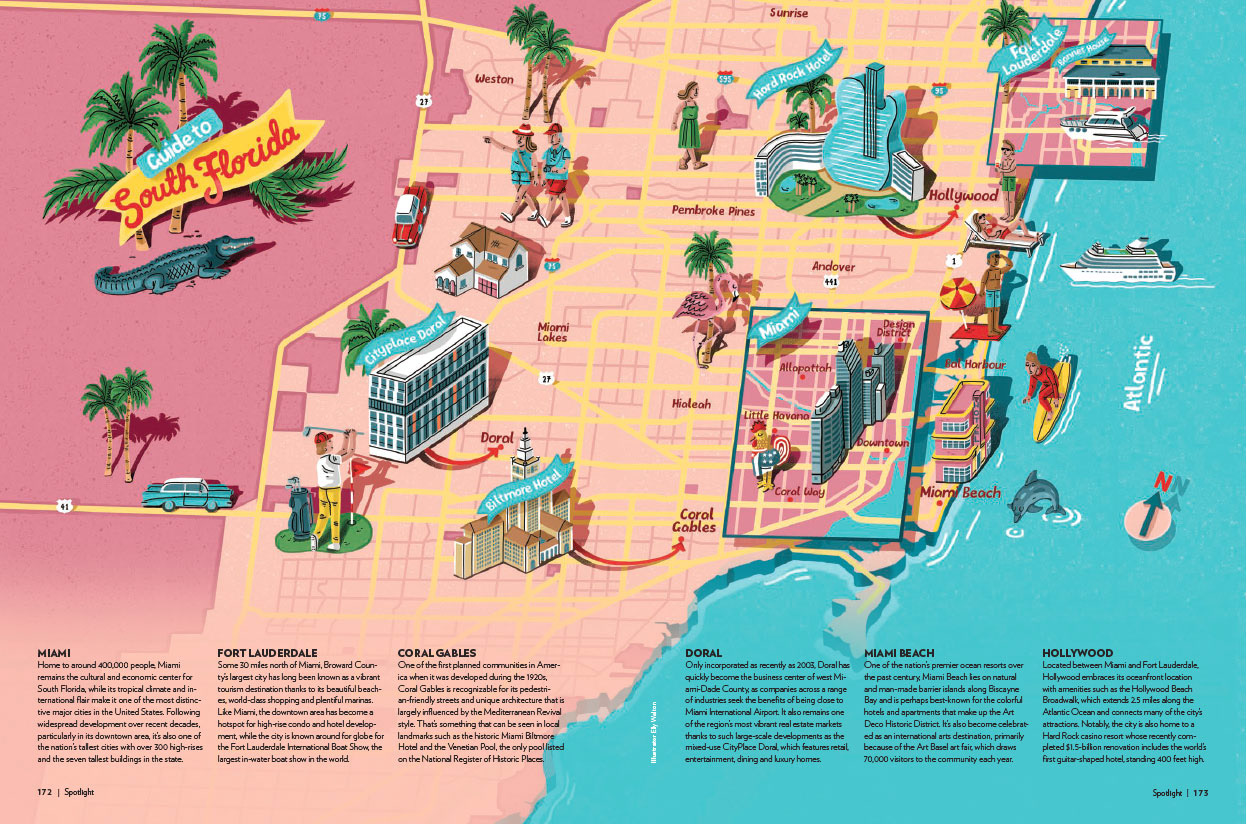 October19 - Aer Lingus inflight magazine; map of Fishtown area of Philadelphia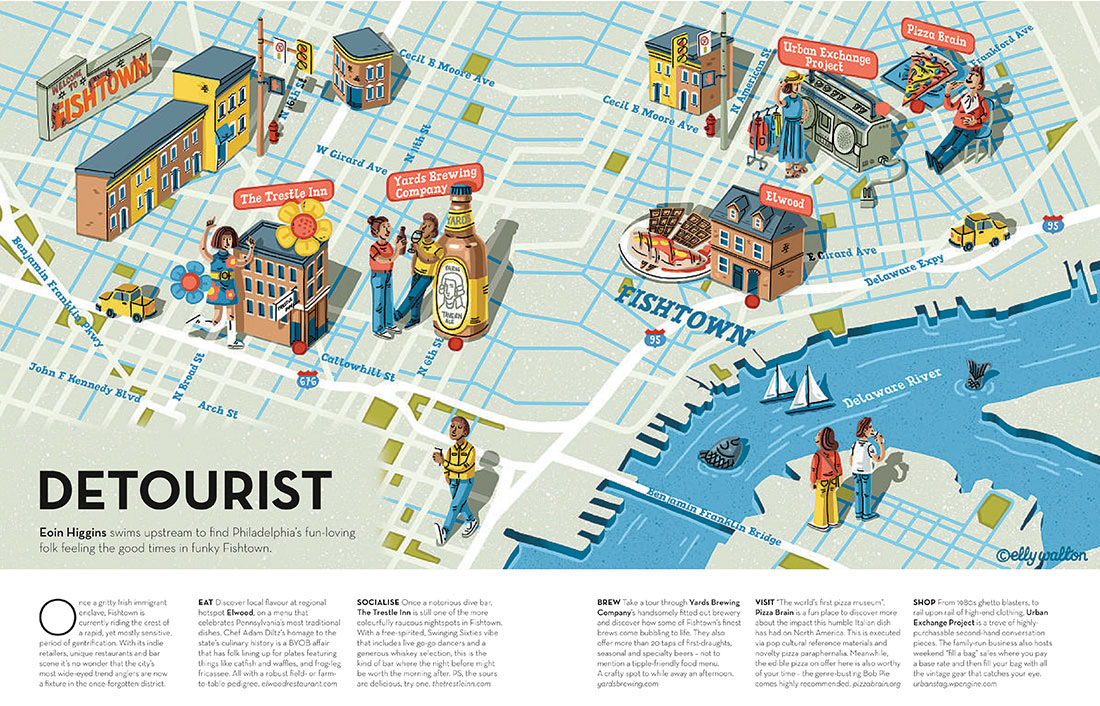 October19 - Print Week magazine feature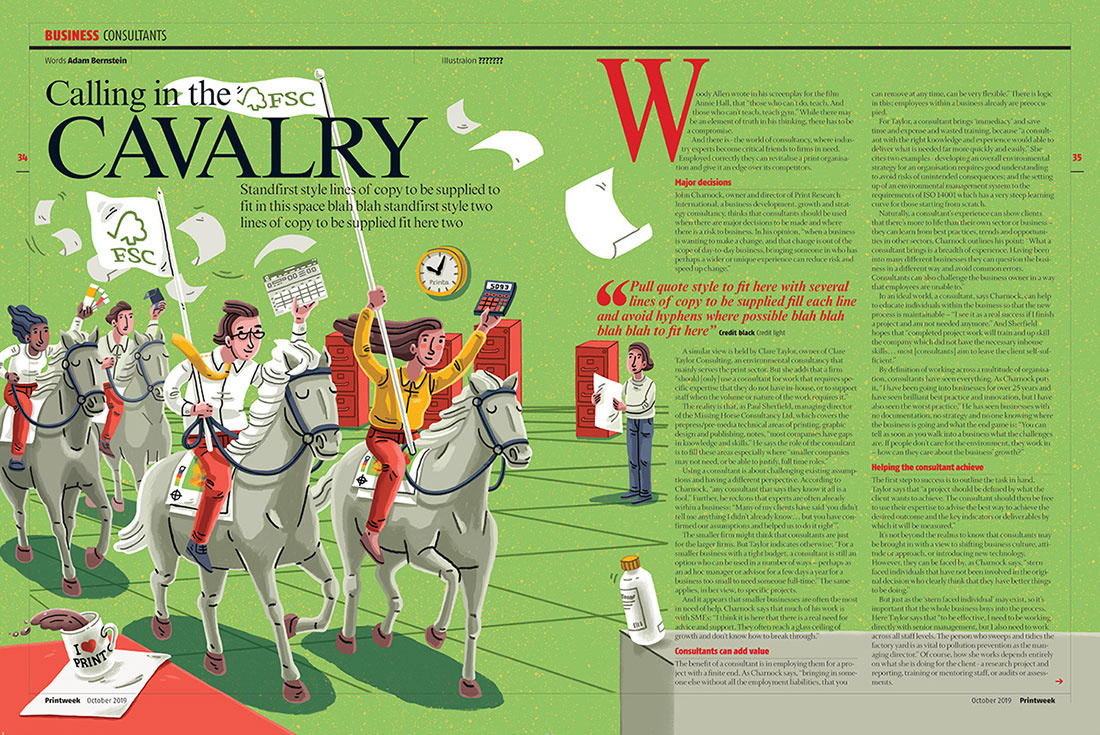 September19 - Summer Picnic spot maps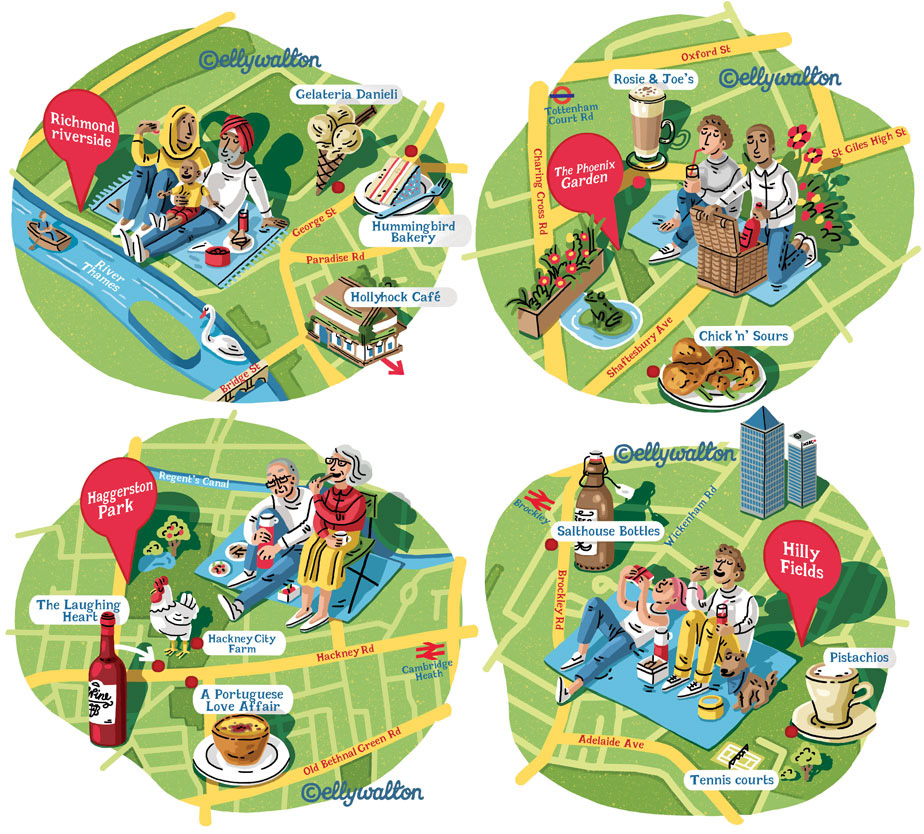 August 19 - Timeout London and TFL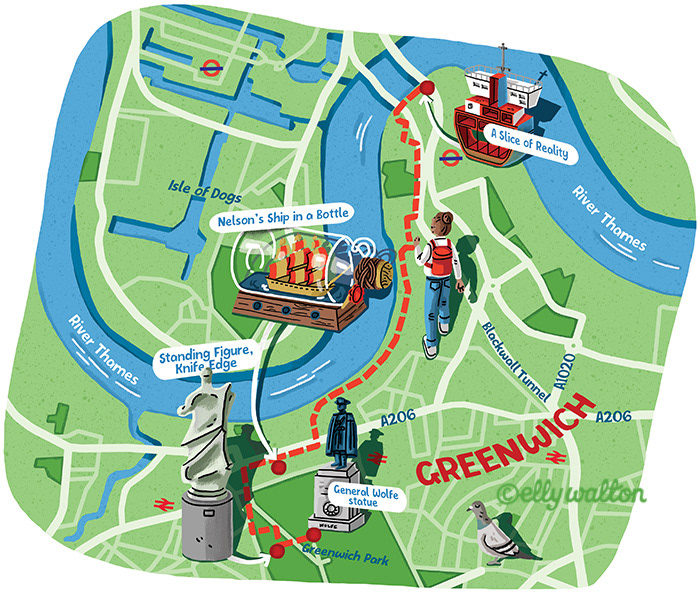 Loved illustrating this series of small maps for a Timeout/TFL guide to arty walks around London

August 19 - Reader's Digest, Olly Mann column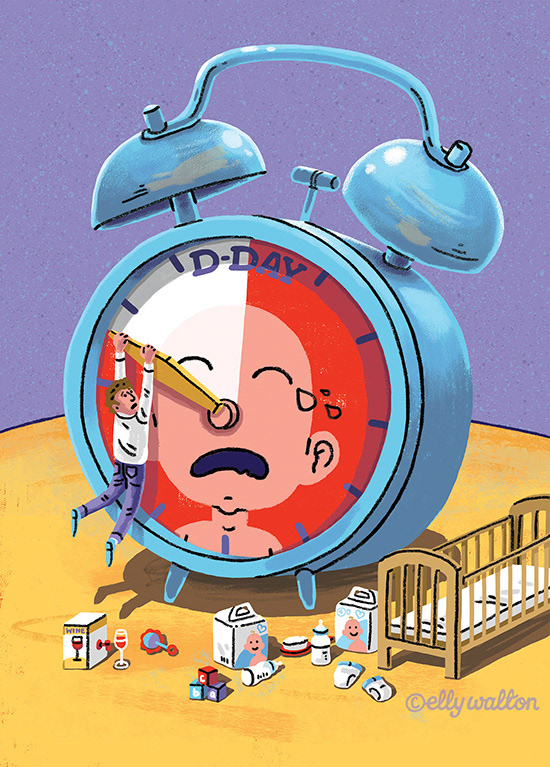 Olly Mann does a regular column in Reader's Digest, on various crazy things that have happened to him. In this column, he talked about his feelings on the impending arrival of his second child

July 2019 - Hand lettering headline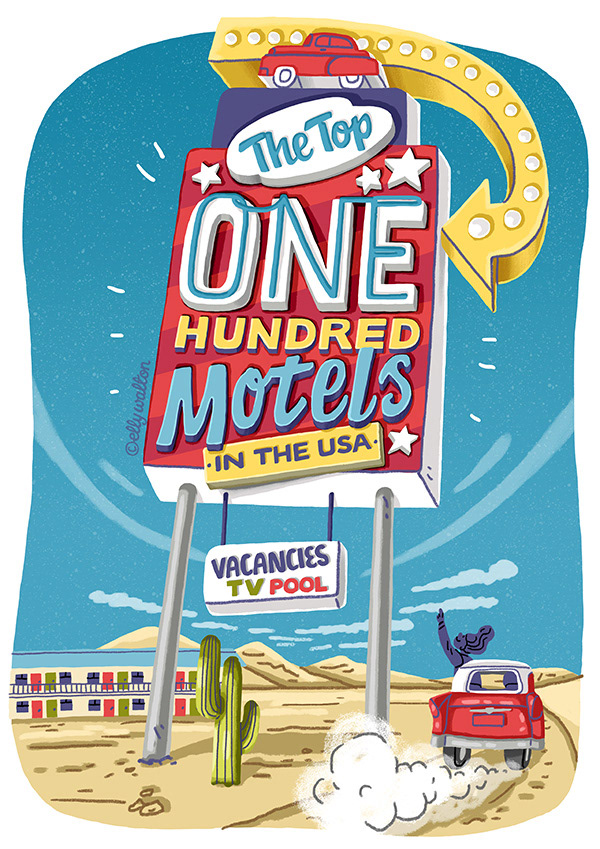 June 2019 - Spider kids' magazine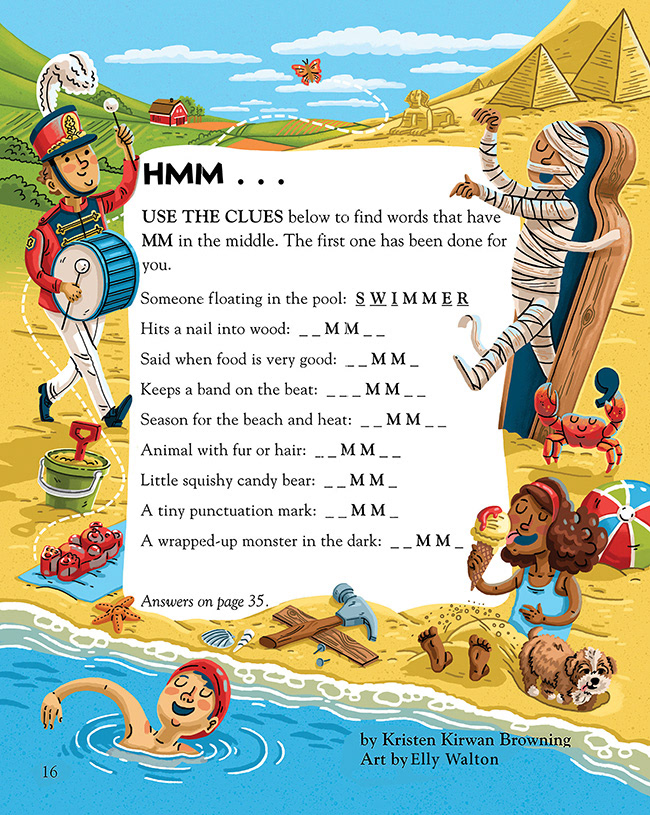 A lovely commission to illustrate some of the answers to a quiz about words with a double 'm'. I had totally free rein to show the anwers however I wanted in this border illustration, and I thought it would be fun to fit them all into one summery holiday scene

June 2019 - Aer Lingus inflight magazine

A little illustrated map of the Karolinenviertel area of Hamburg highlighting some little tourist hotspots!

June 2019 - Reader's Digest Cover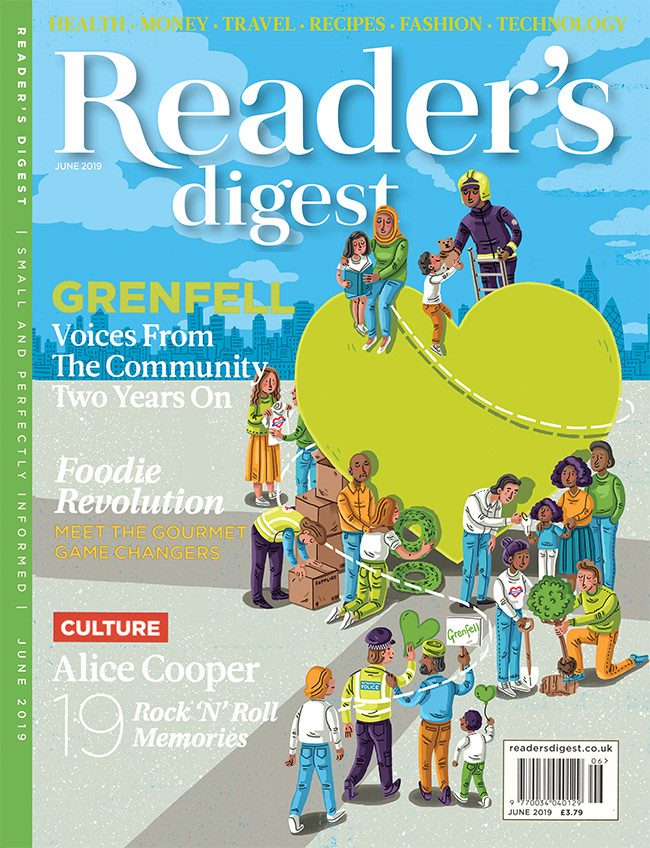 Another wonderful opportunity to illustrate for Reader's Digest, this was for their Grenfell Tower two years on feature, a sad and sensitive subject. The Art Director wanted to highlight how the community has come together to heal and look after each other since the disaster, so we worked with the Grenfell green heart icon to show members of the community working together

April 2019 - Aer Lingus inflight magazine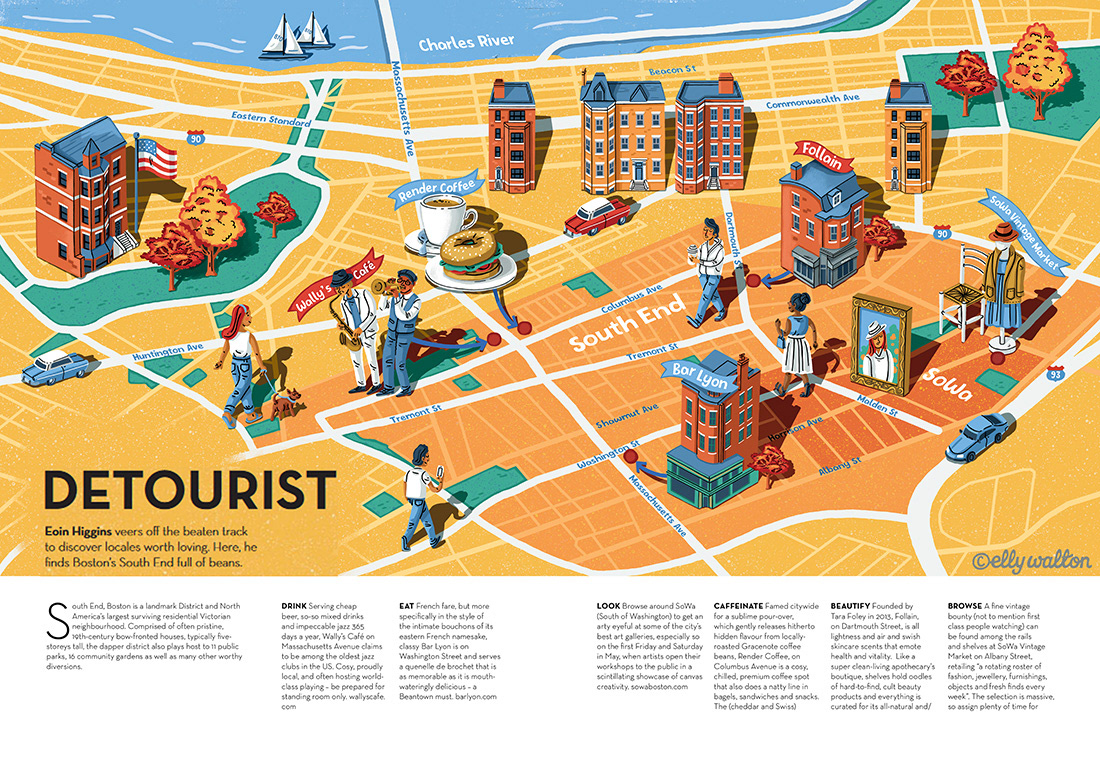 Great to be asked to illustrate this dps map for the new-look Cara magazine of an area of Boston

April 2019 - Loire Valley Map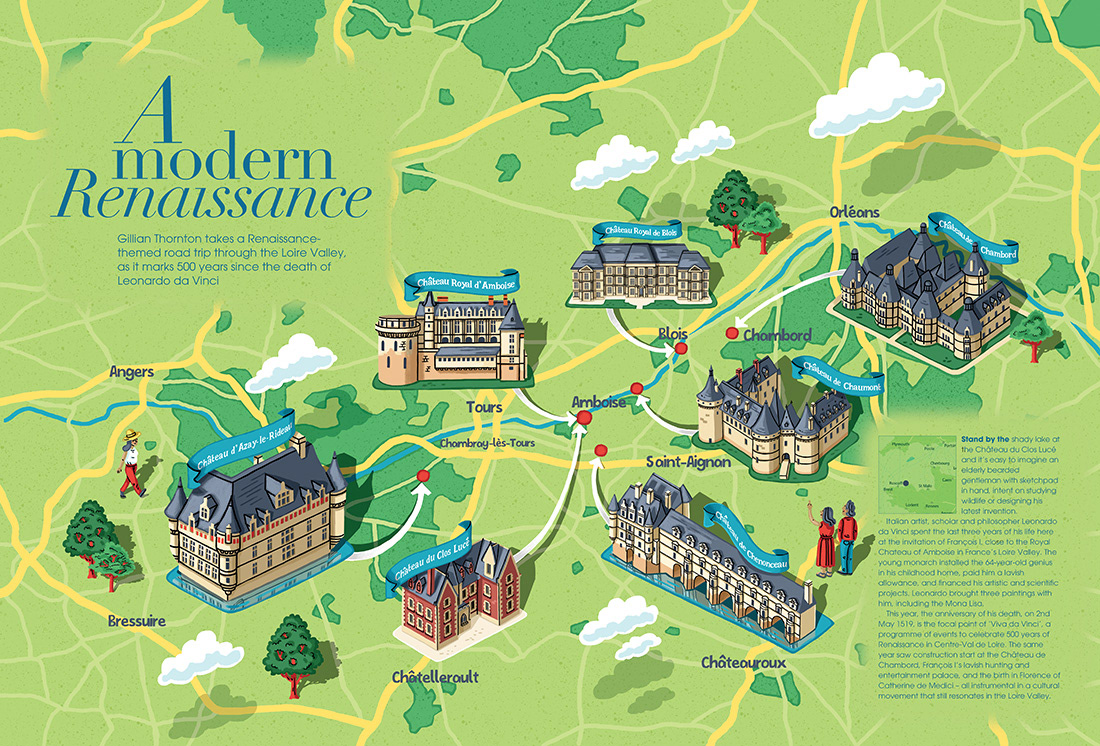 April 2019 - Print Week cover illustration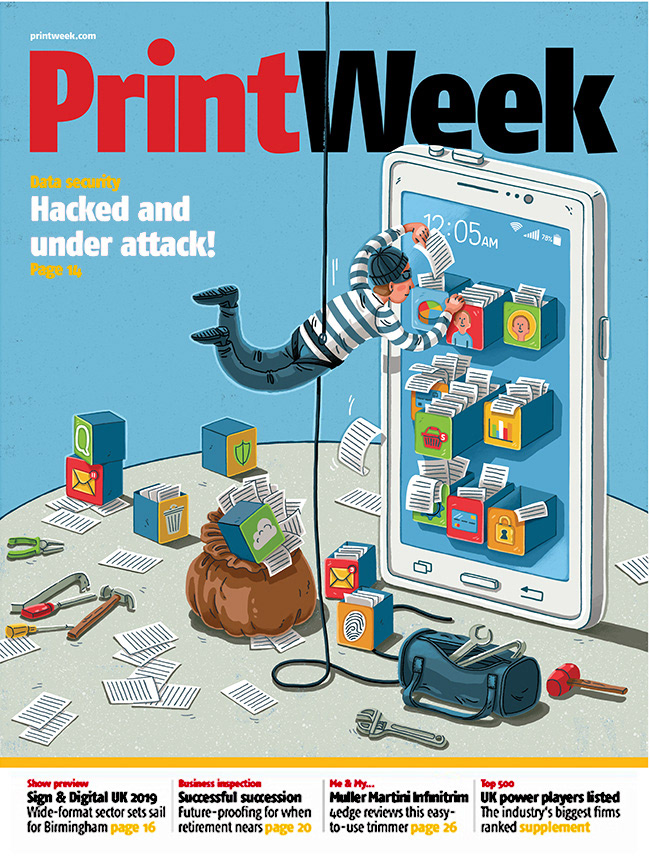 Fun to illustrate this issue of Print Week magazine on the subject of cyber attacks! The art director requested an image of a phone being hacked into in some way and I came up with this idea of a dangling thief breaking into phone apps like secret files!

March 2019 - Map Illustrations for Timeout London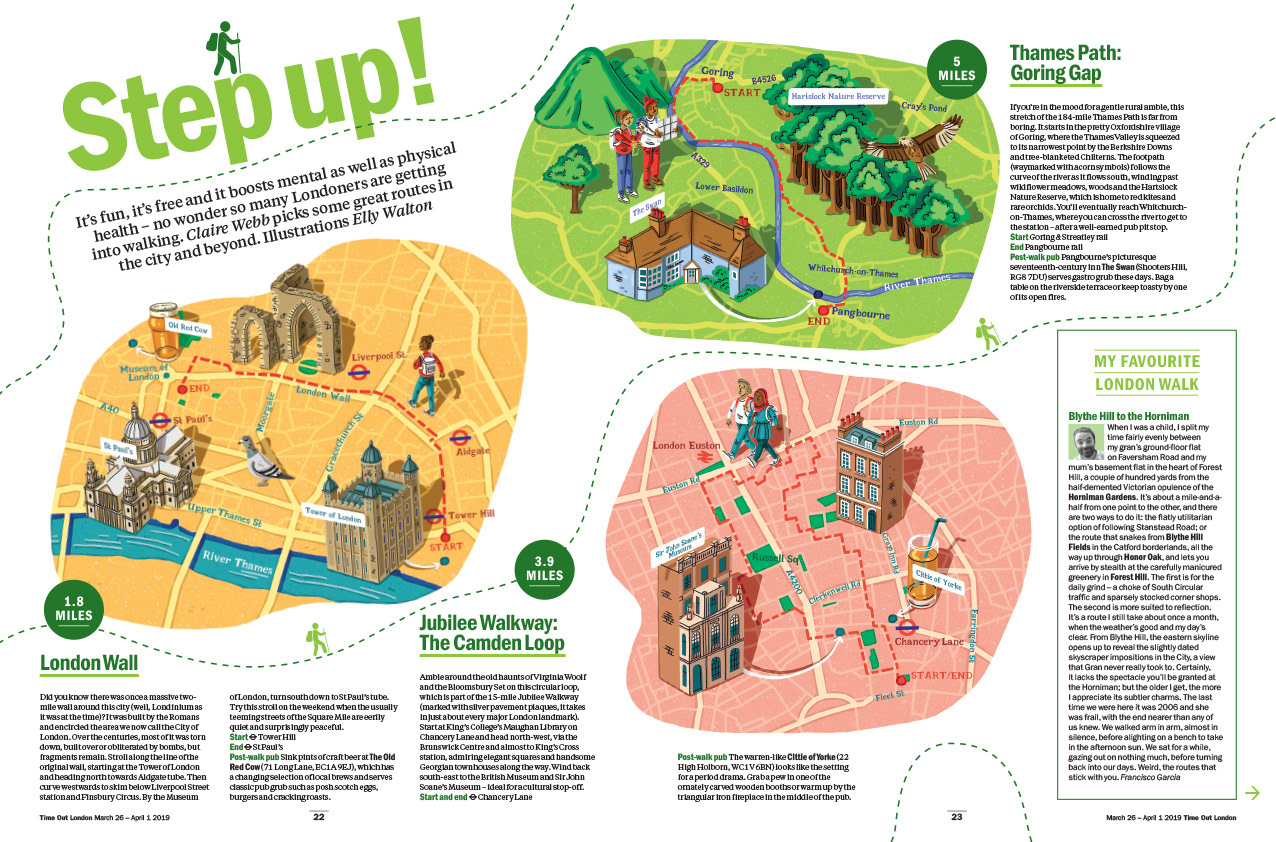 It was an epic but fantastically enjoyable task to illustrate 7 little maps in under a week for a special walking feature in Timeout London

March 2019 - Map Illustration for Timeout Glasgow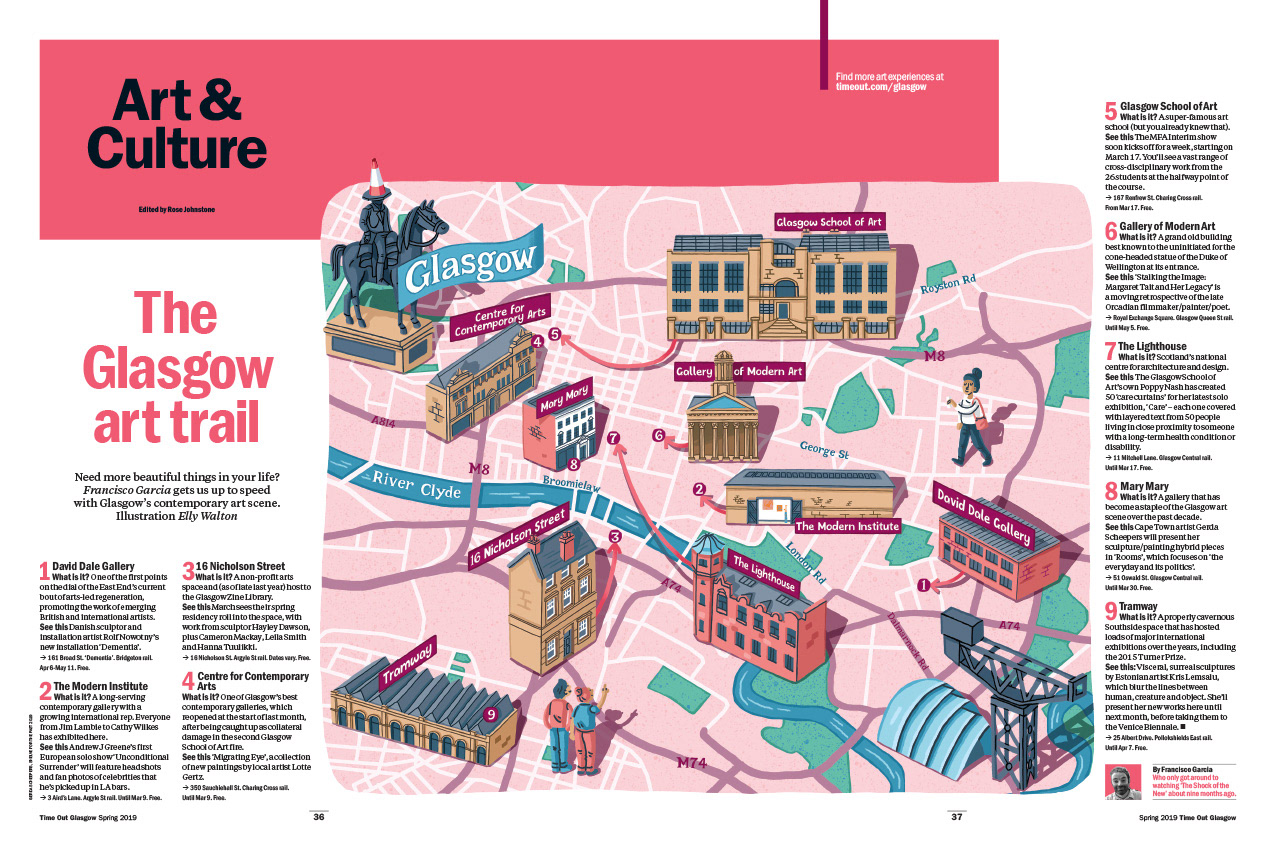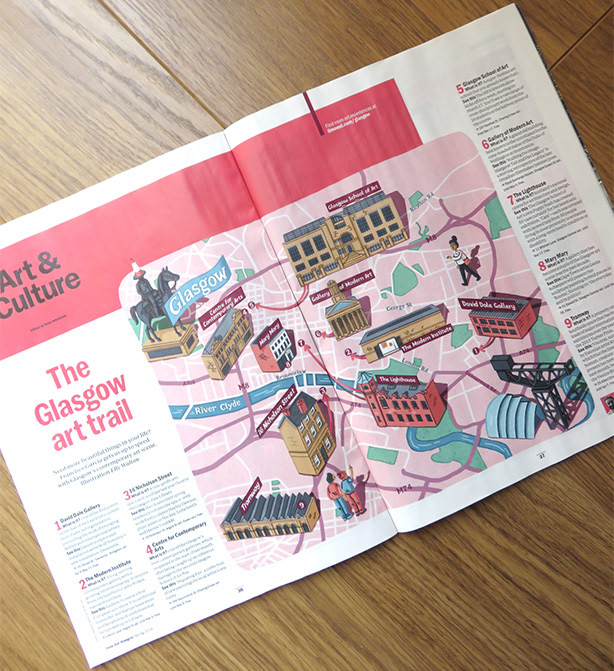 It was wonderful to be asked to illustrate a series of tiny galleries for a special feature in Timeout Glasgow on places to enjoy a cultured weekend

February 2019 - Map Illustrations for Reader's Digest UK and Billboard magazines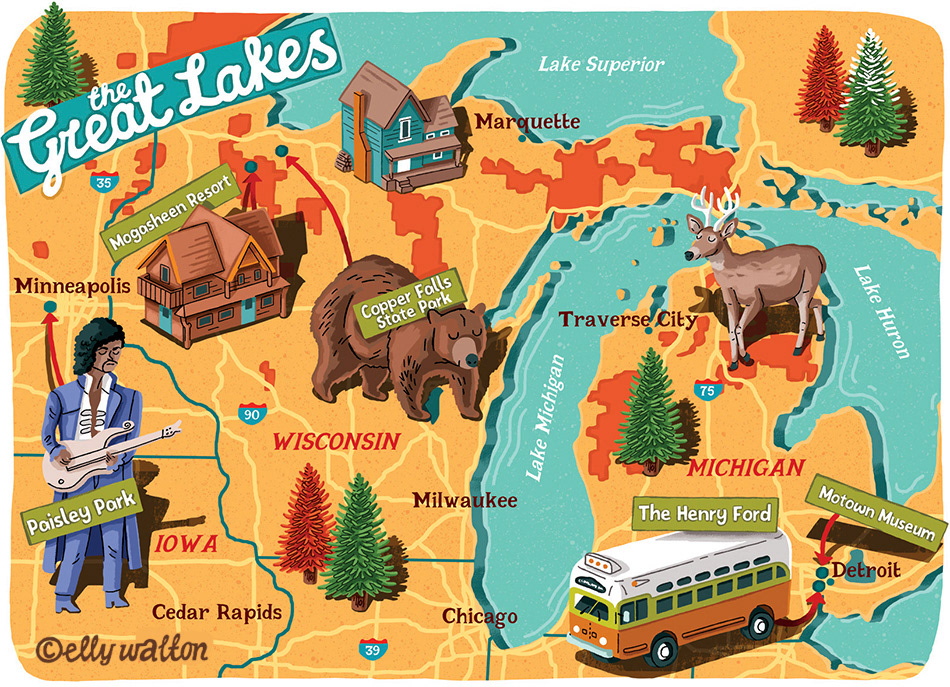 Who wouldn't love the chance to draw Prince, not once - as in the map above for Reader's Digest, for a feature on driving the Great Lakes region of the US - but twice! Below is a map for Billboard magazine, for a feature on the upcoming Grammy awards and things to do in LA whilst you're there, including catching Purple Rain at the Rooftop Cinema!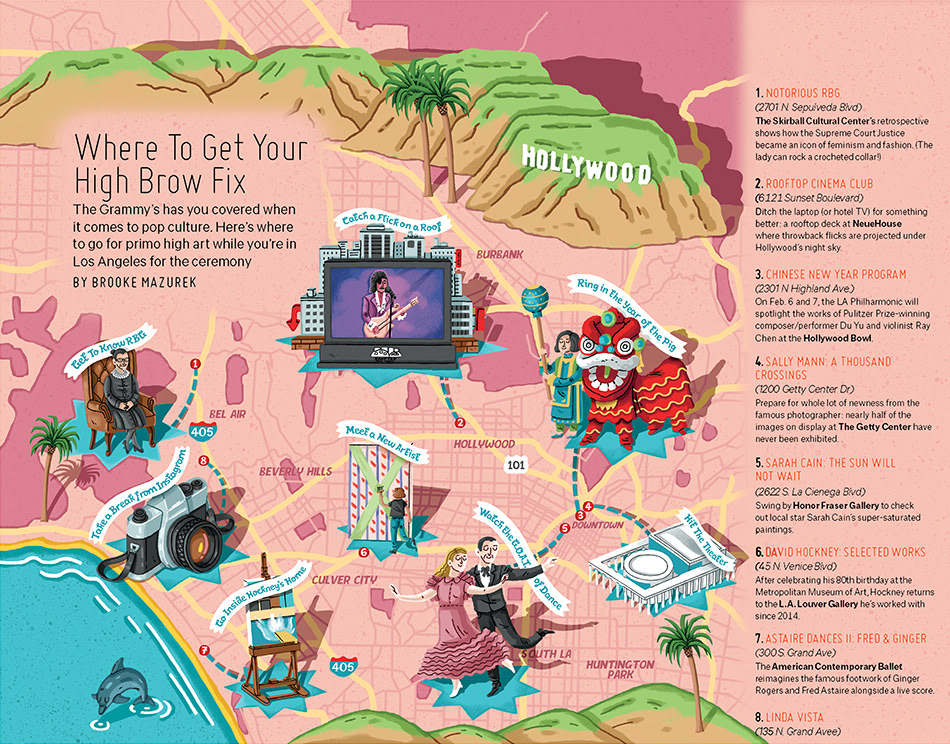 November 18 - Reader's Digest Cover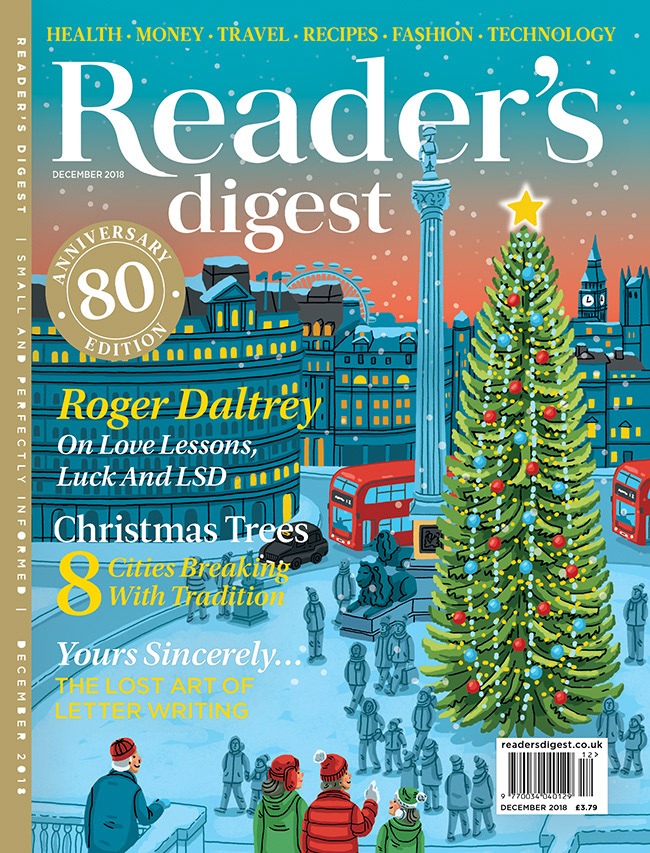 It was such an honour to be asked to illustrate the Christmas Reader's Digest cover! The Art Director requested this fun scene of Trafalgar Square with the tree all lit up and sparkly

November 18 - RCSLT Site illustrations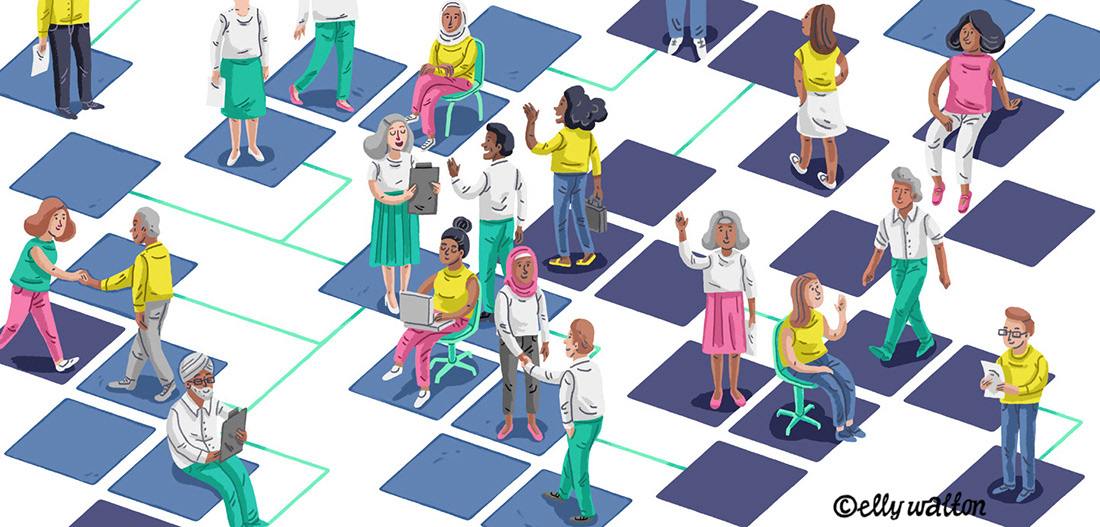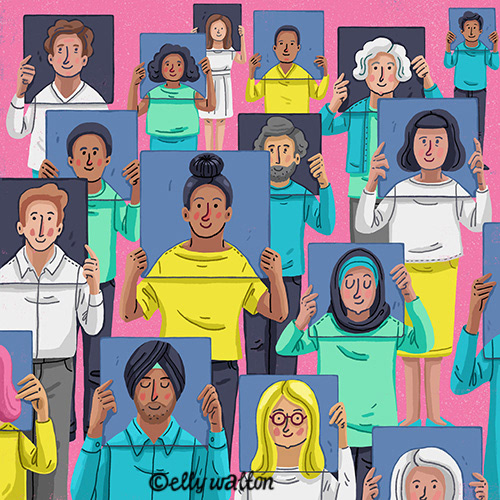 The Royal College of Speech and Language Therapists have recently updated their website and asked me to produce a few illustrations to accompany their 'About Us' and 'Become a Member' pages. I used their logo, which is made of dark and lighter blue squares, as the theme of the illustrations

November18 - Wings magazine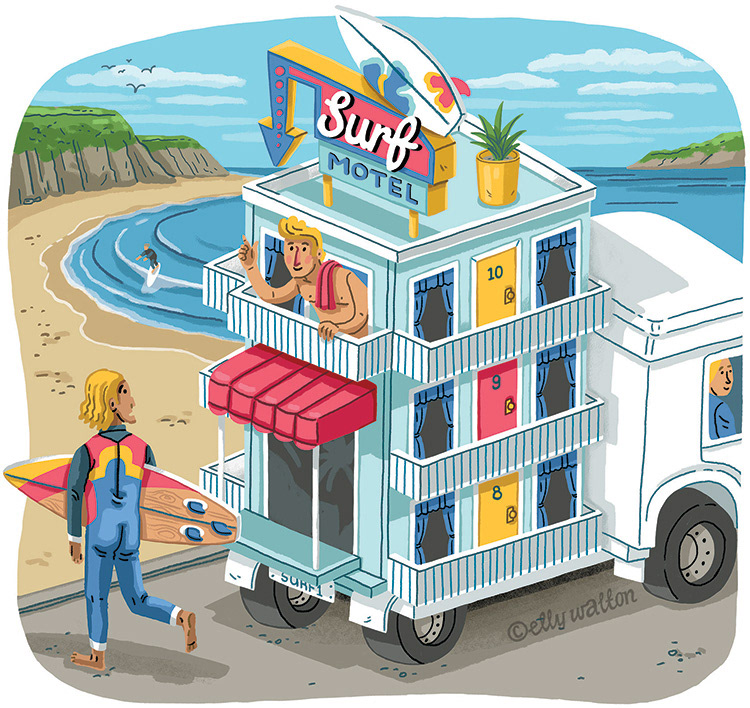 Apparently there is such a thing as a surfer's hotel that travels around on the back of a truck. The Art Director gave me free reign to interpret how it might look so I went for a kind of retro 1960s American motel as I thought that's the kind of style the surfer dudes might be into :)

November18 - Print Week Cover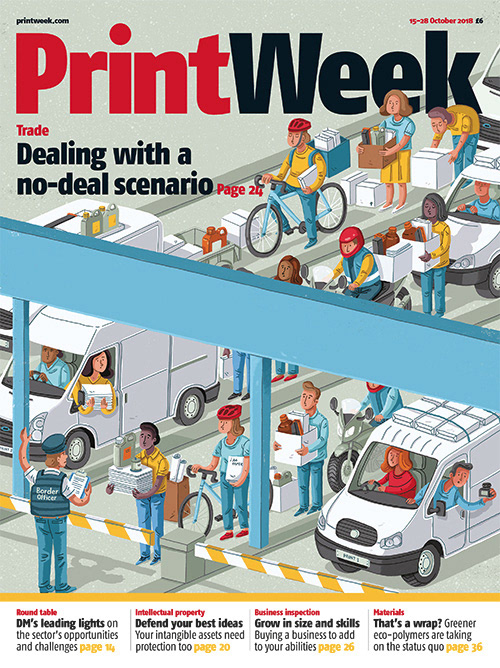 As Brexit looms ever larger, a cover for Print Week discussing the possible outcomes of the talks in Europe and what this means for print professionals buying products from Europe

October18 - Times Higher Education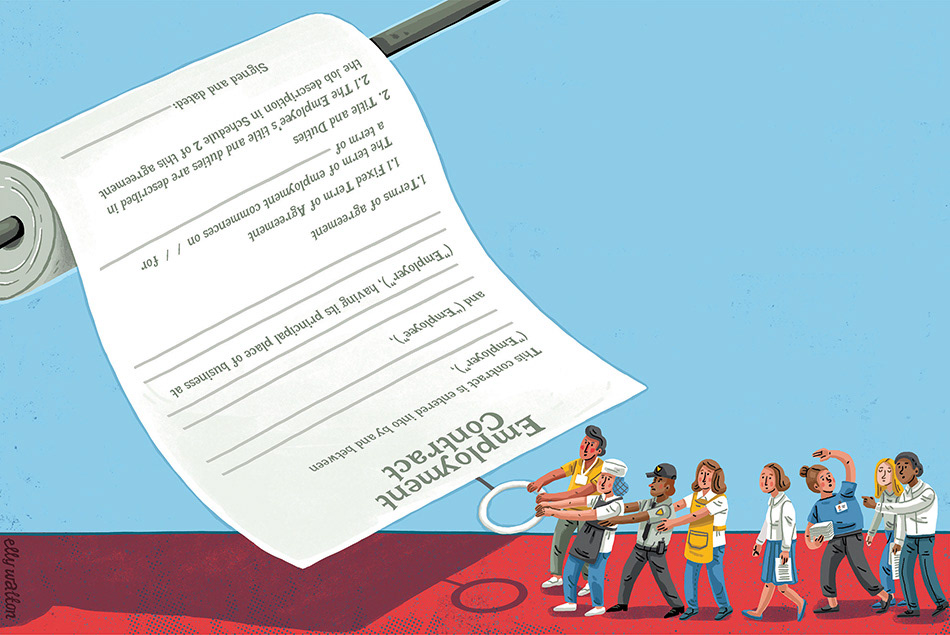 An opinion article for the Times Higher Education magazine, discussing the increasing number of short-term contracts offered to academics and university support staff and the need for all to work together to improve them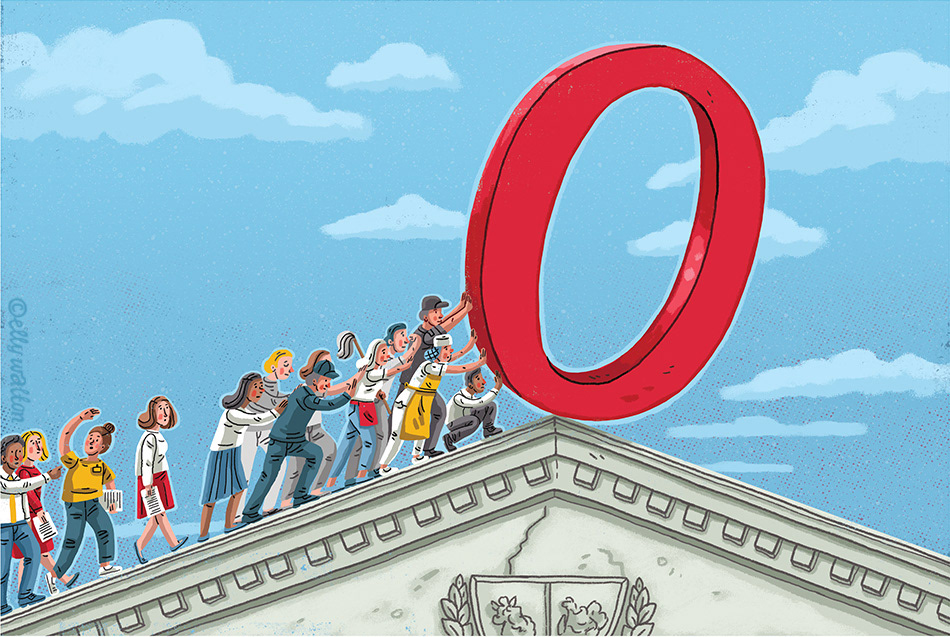 This was another idea that didn't make it for the Times Higher article on contracts but I thought I'd work it up to final stage. Here I was trying to show the idea of people working together to get rid of zero hours contracts

November18 - BBC Wildlife Magazine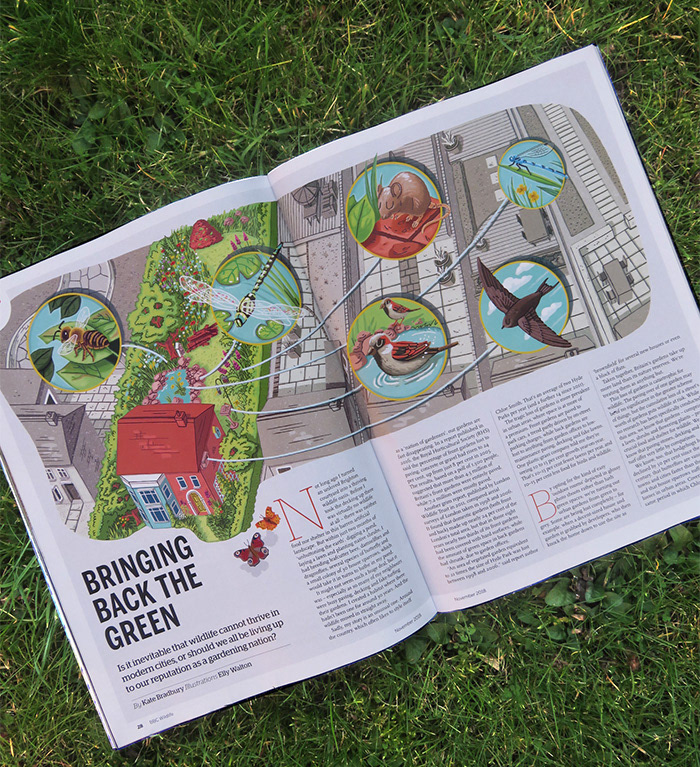 What a treat to illustrate little critters for this great article on bringing wildlife back to urban gardens, for BBC Wildlife magazine

September 18 - Wings Magazine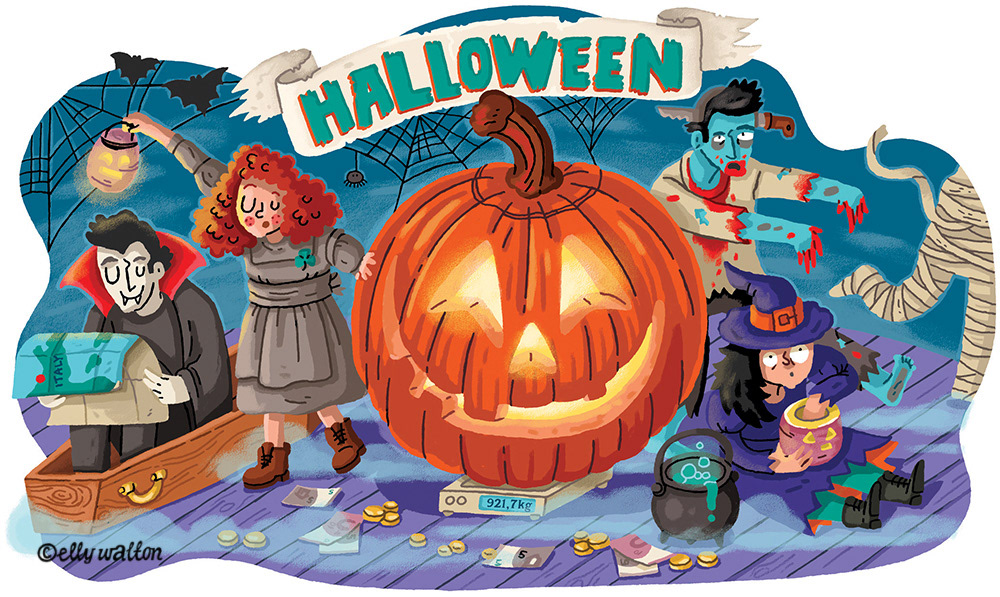 Great fun illustrating this medley of Halloweeny stuff to accompany an article on fun facts about Halloween

August 18 - Orlando Magazine Cover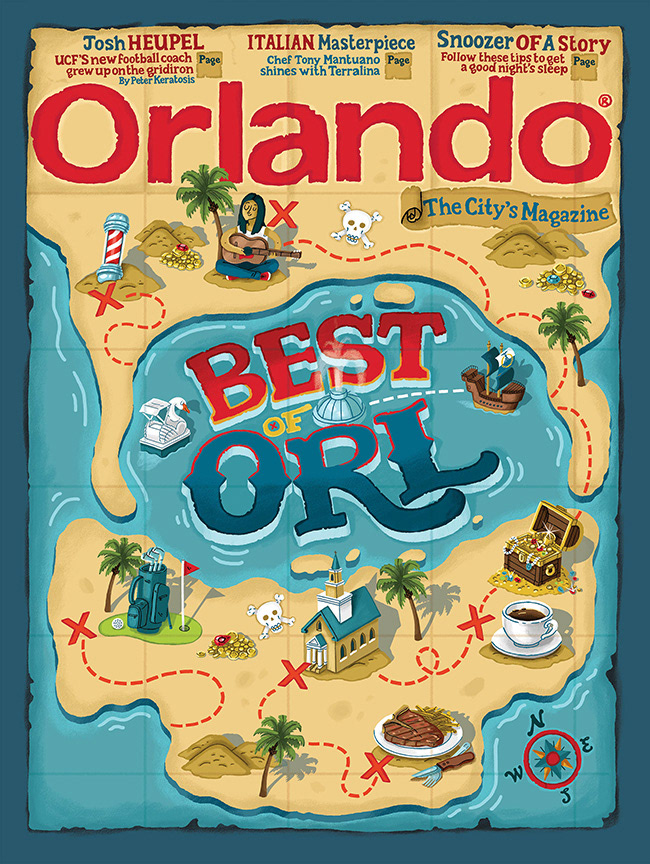 I loved illustrating this cover for Orlando magazine's August issue. They wanted the whole cover illustrated, including the cover lines and headline, as though it was a treasure map of the "Best of Orlando"

August 18 - Brittany and LA Maps for travel magazines

July 18 - Nestle Koko Krunch Advertising Competition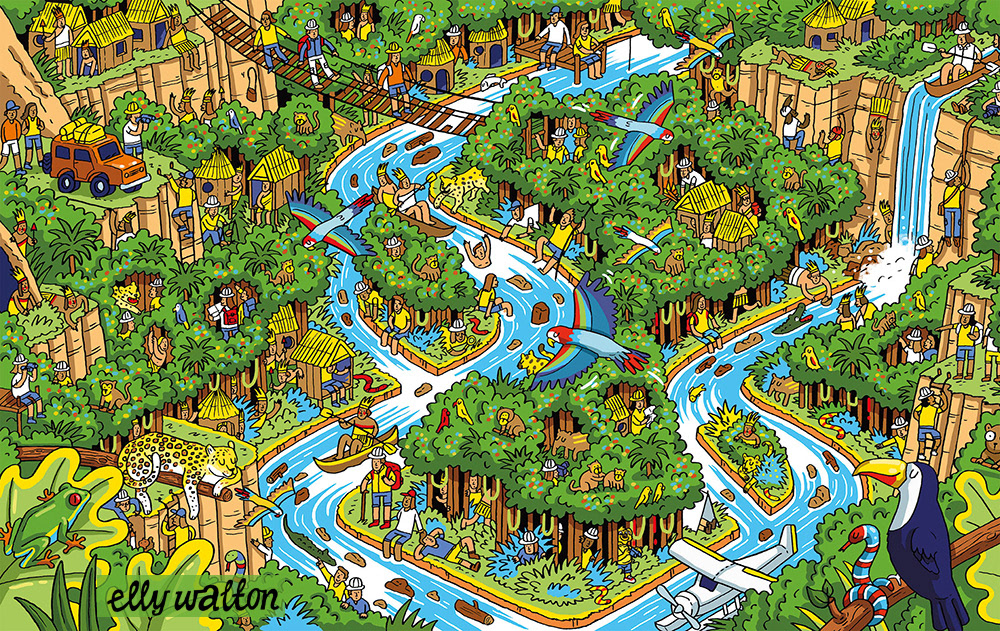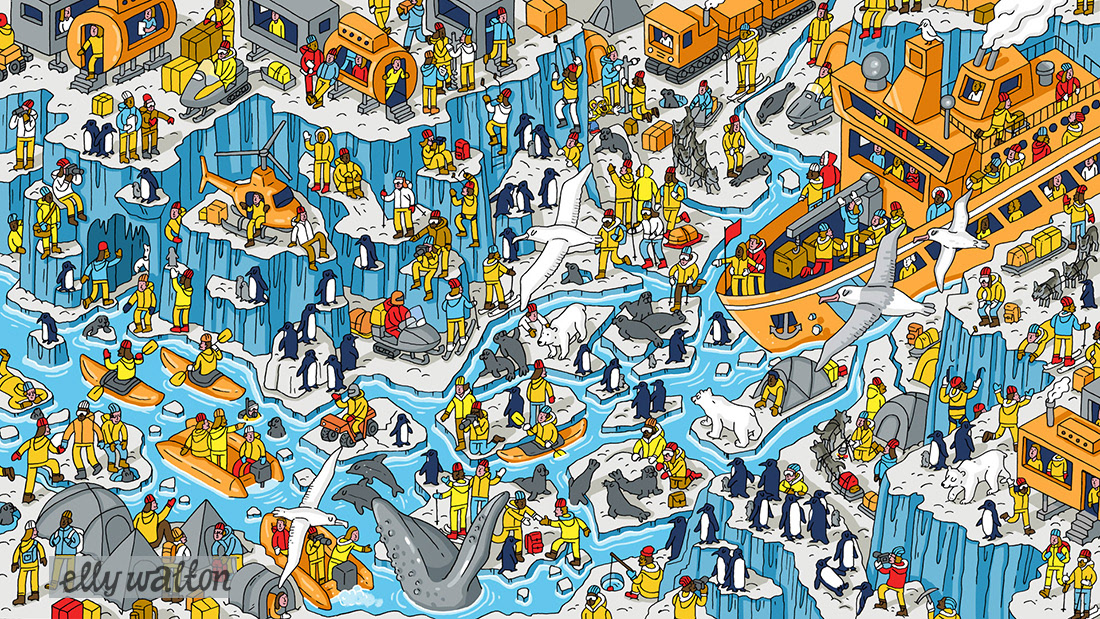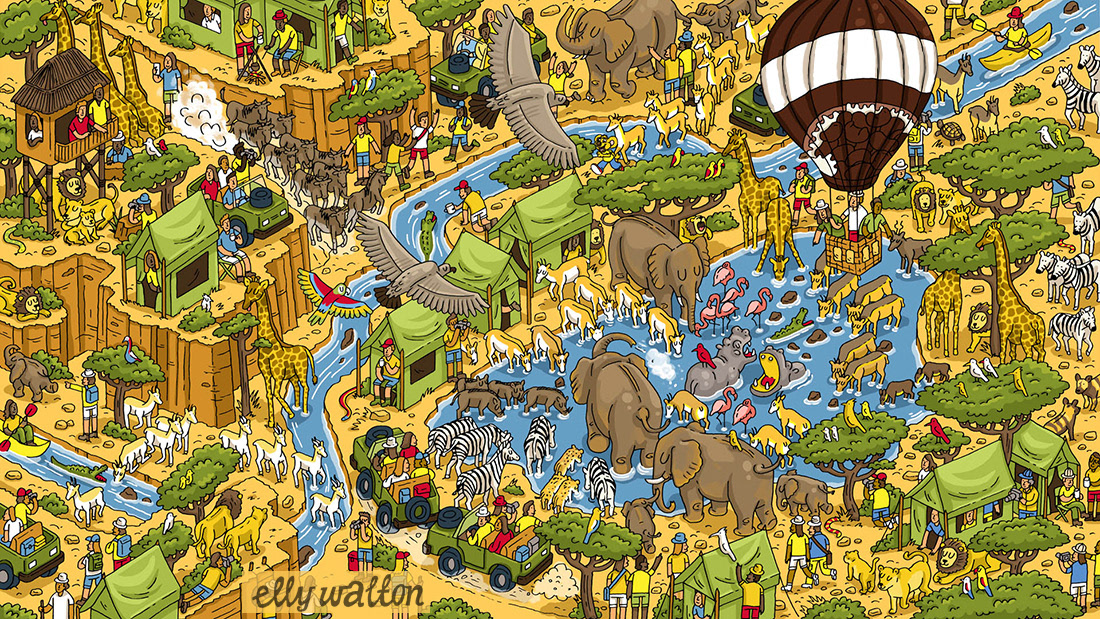 This was a really fun challenge to illustrate four extremely detailed scenes from four specific locations - the Amazon Jungle, Antarctica, the Great Barrier Reef and the Serengeti. The client wanted lots happening and their character "Koko" hidden somewhere in each location for the customer to find

June18 - Waitrose Weekend Maps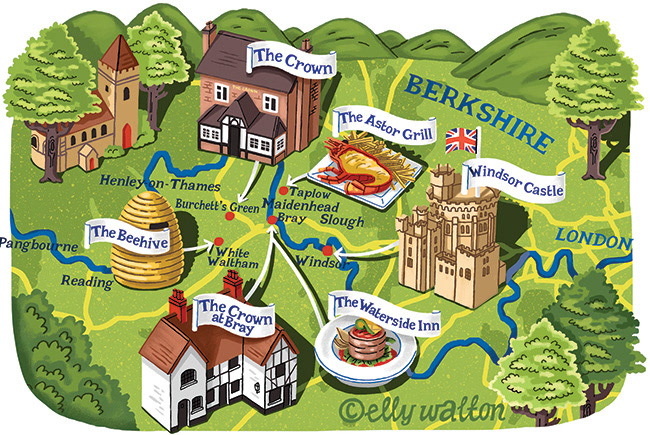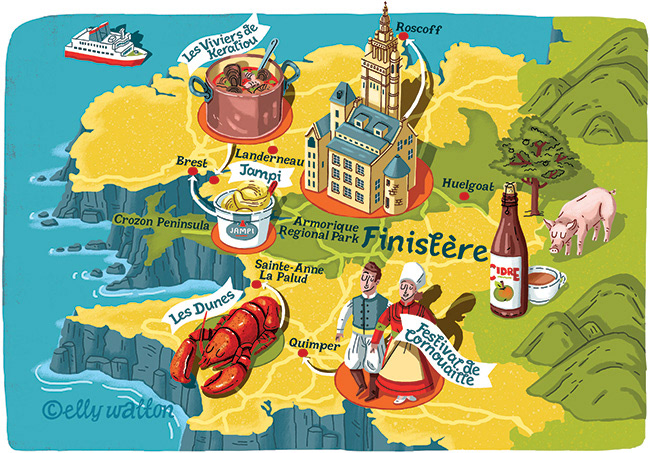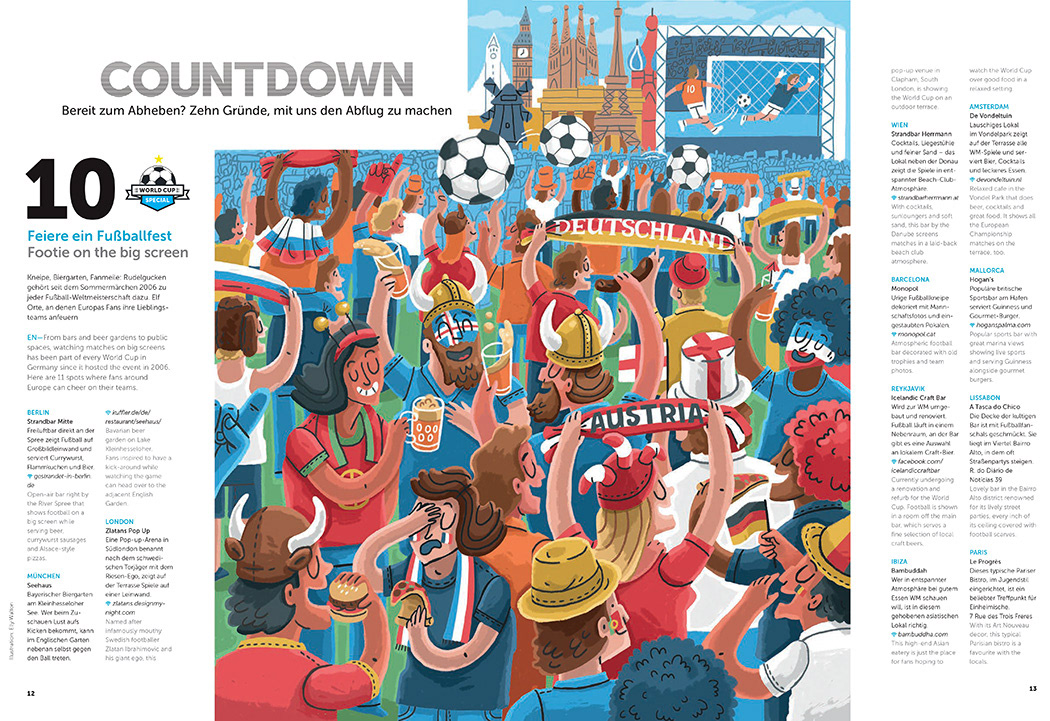 This was a really fun commission to illustrate a crowd scene, incorporating the different nationalities and some of the landmarks of those countries mentioned in the copy as great places to watch this summer's World Cup

May18 - Manufacturing Management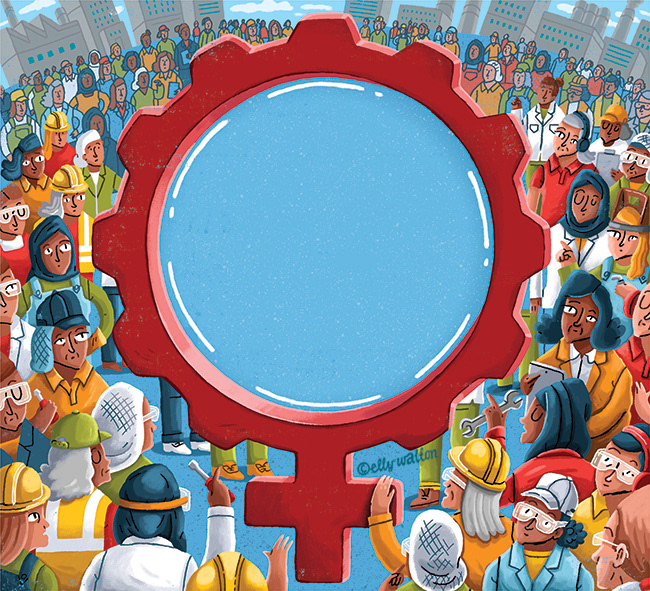 A great opportunity to illustrate a feature that discussed the lack of women in manufacturing. This was for a cover where the headline was to fit inside the middle cog/female symbol and for the feature spread

April18 - Waitrose Weekend magazine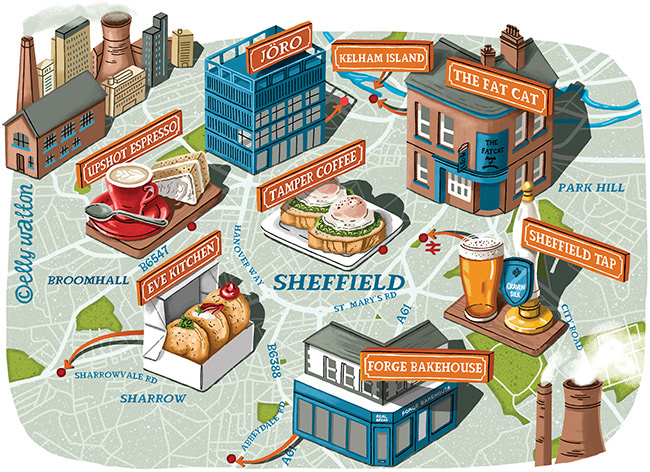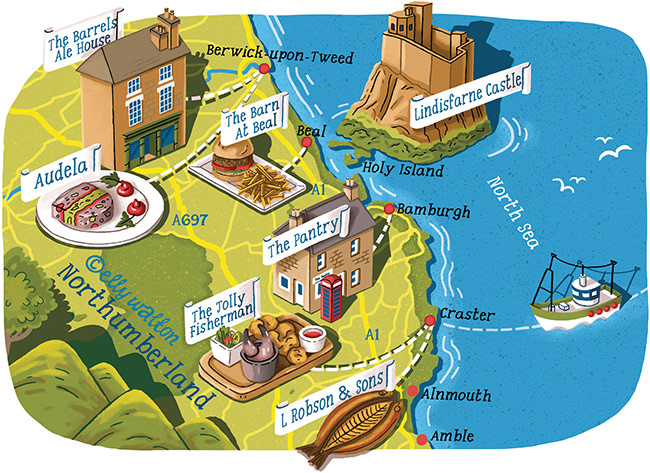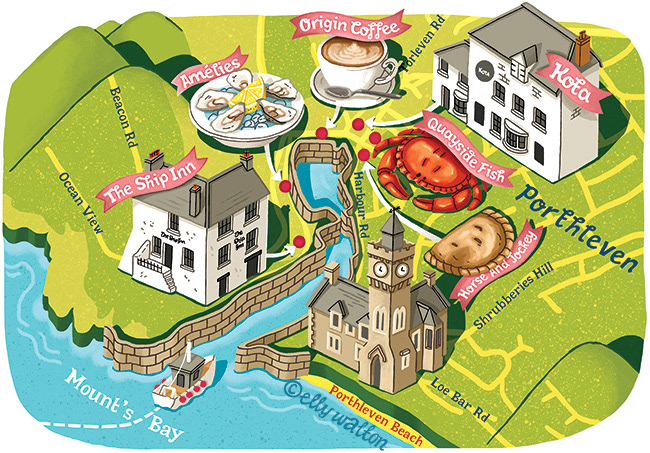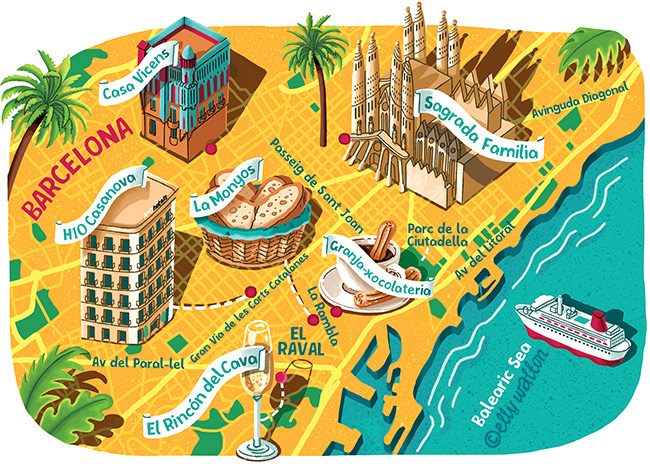 Another couple in my regular series of maps for Waitrose Weekend, highlighting foodie and tourist point of interest

March 18 - Brittany Ferries magazine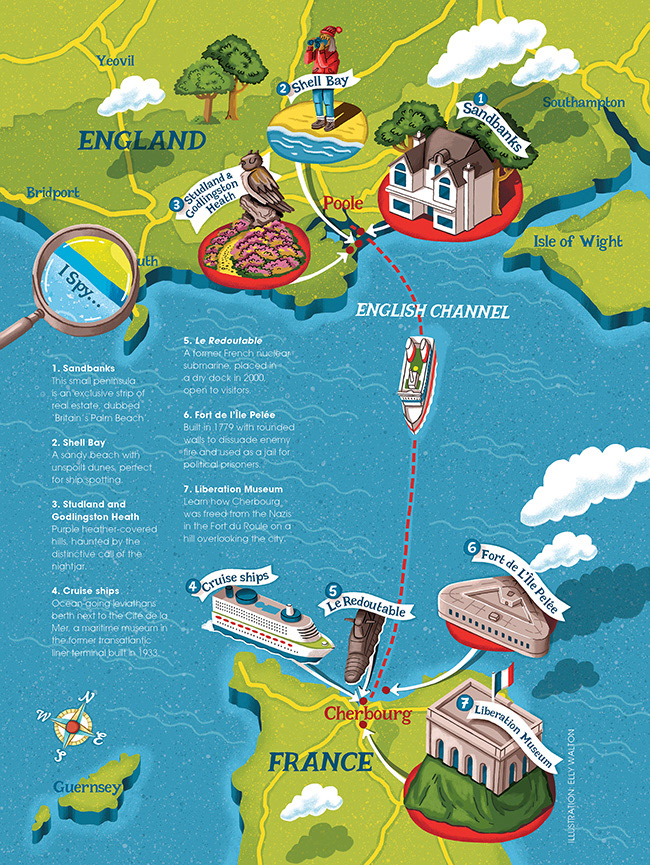 A lovely opportunity to illustrate this map of the sights on the route from Poole to Cherbourg for Brittany Ferries

March 18 - Ink Publishing, Sleeper Train Map

I was asked to do another map for one of Ink publishing's inflight magazine clients, for a feature on the Caledonian Sleeper Train that runs from London to stations in Scotland

March 18 - Map of Sharjah for business travel magazine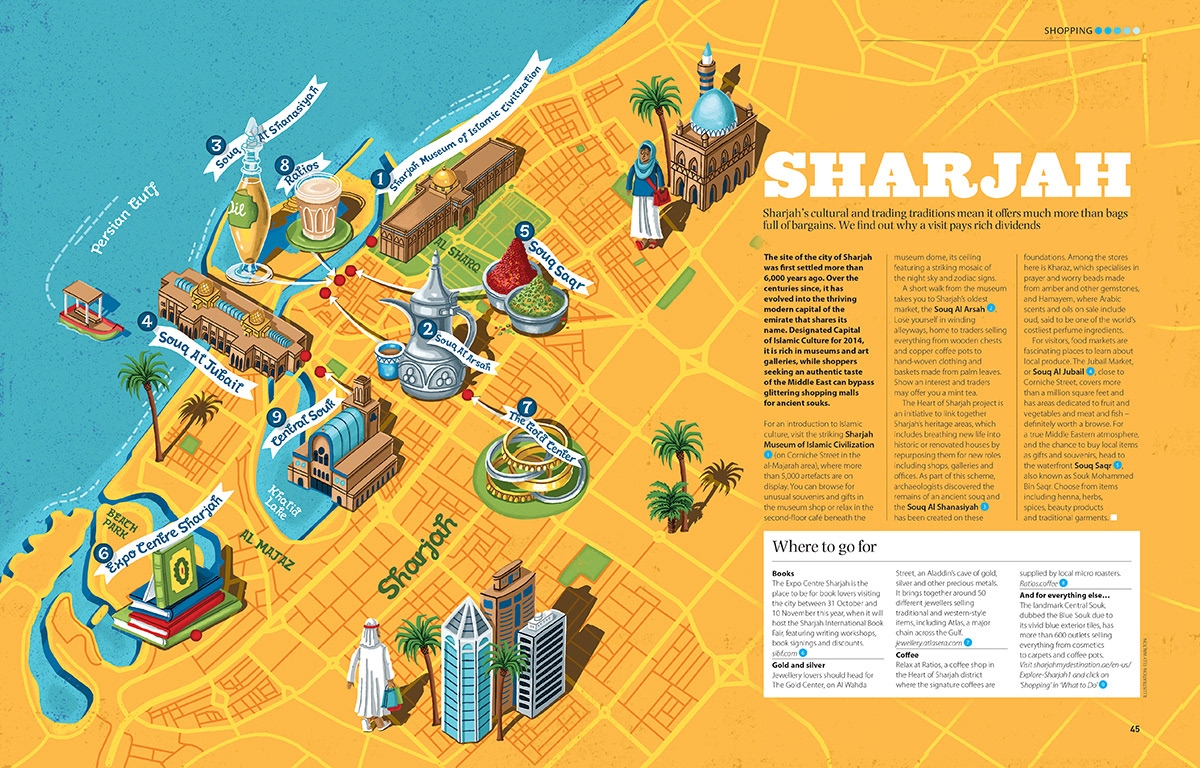 I've done a few of these DPS maps now for a business travel magazine that discusses the great shopping areas to visit in different exotic locations, when you're done with the business deal

February 2018 - Waitrose magazine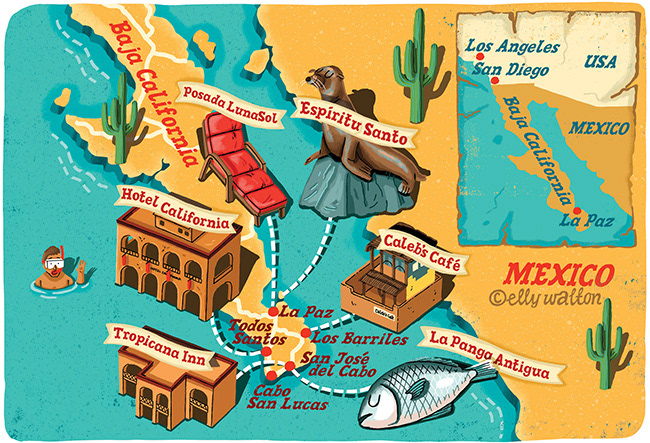 Another in my regular series of maps for Waitrose magazine, always fun to bring the locations to life and give each it's own little theme!

February 2018 - Times Higher Education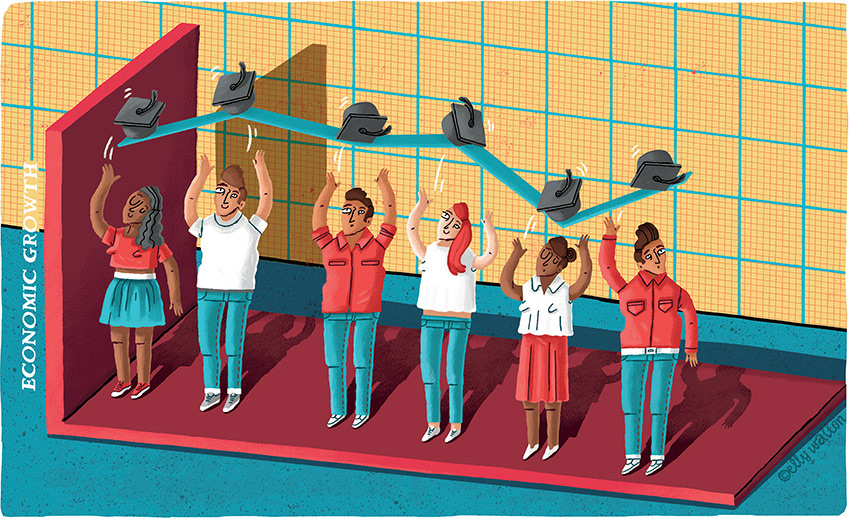 Another of my illustrations for the Times Higher Education opinion section, which deals with all matters related to higher education. This one for a piece on graduates and how their numbers effect the economy

January 2018 - Ink Publishing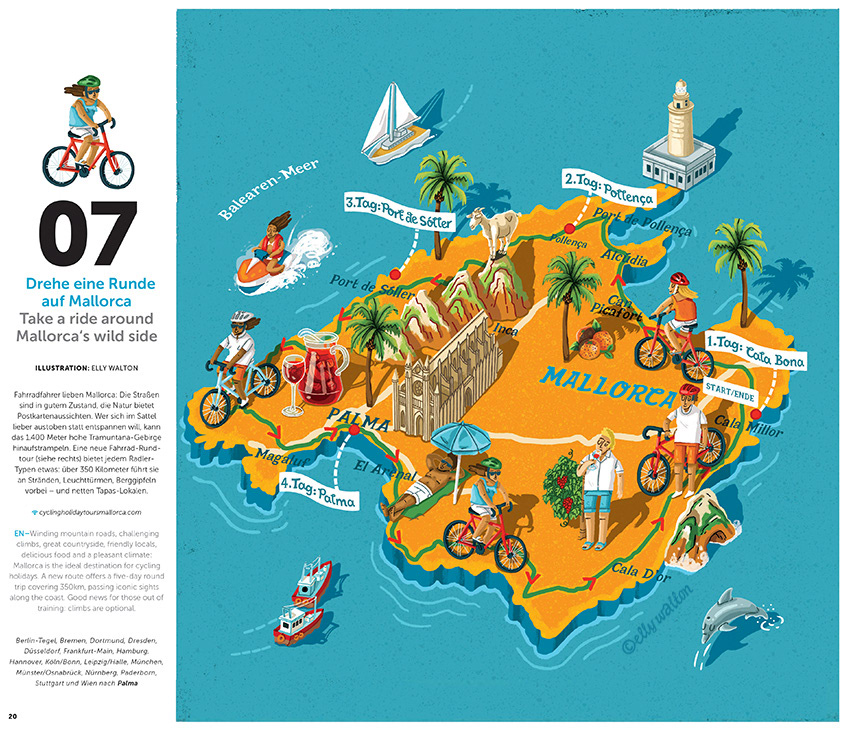 Ink Publishing asked me to illustrate this map of a cycling tour route around the beautiful island of Mallorca, including the stops made each day and some of the highlights of the island

December 2017 - Timeout London

I was really pleased to be asked to illustrate this map of Roman sites in London for Timeout London's kid's section, showing some interesting locations where Roman artifacts and ruins can still be visited for a fun day out!

November 2017 - Spider Kid's magazine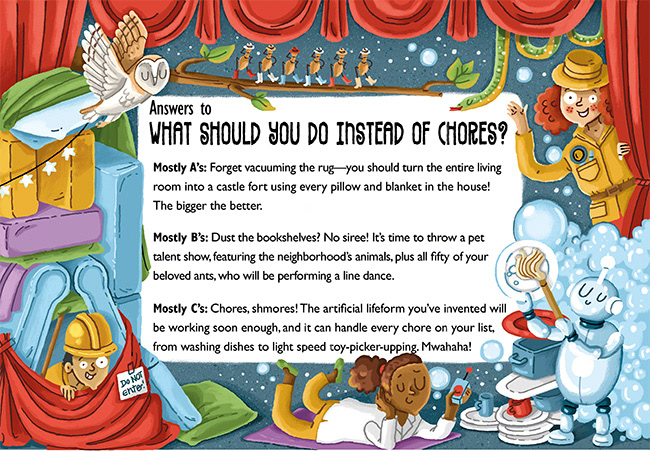 A wonderful opportunity to illustrate for US kid's magazine, Spider, for this fun quiz and answer page
November 2017 - Waitrose magazine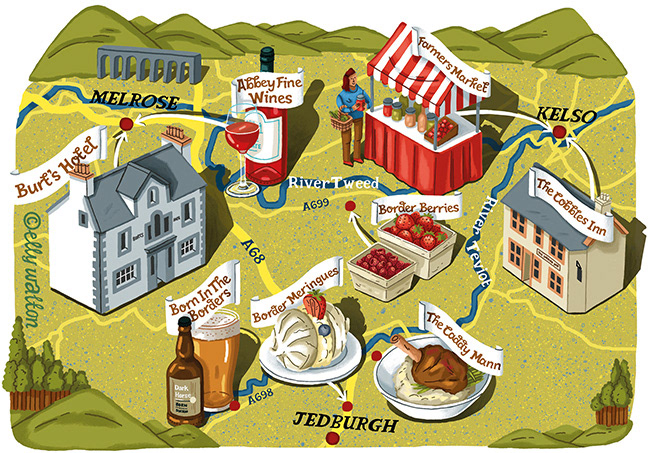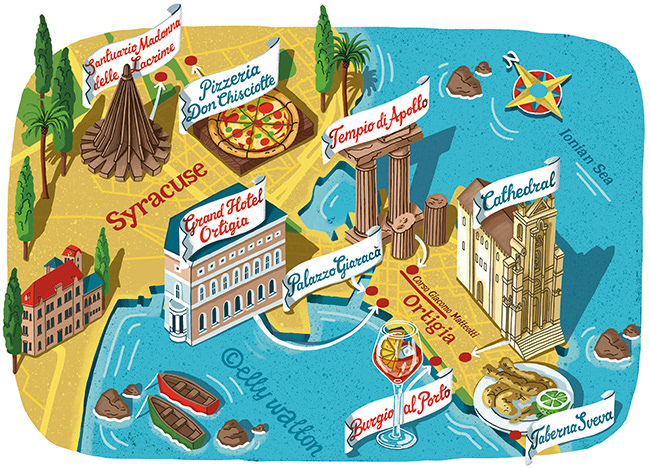 Some more of my regular map illustrations for the weekend magazine

October 2017 - Times Higher magazine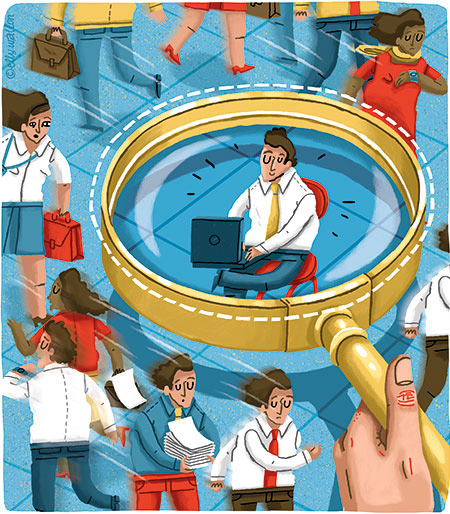 Another couple of recent opinion illustrations for the higher education publication. These were for articles discussing focusing on your work priorities and how to write your thesis

September 2017 - Map of Scotland, outdoor magazine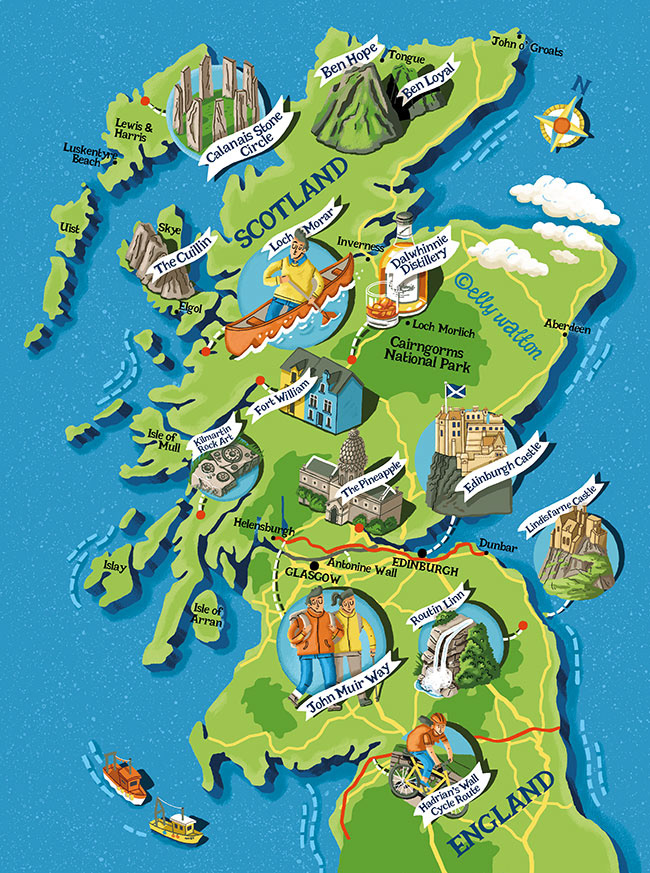 A lovely opportunity to contribute to a new outdoor magazine featuring a numer of wonderful locations in Scotland.

July 2017 - Hand lettering for summer food recipes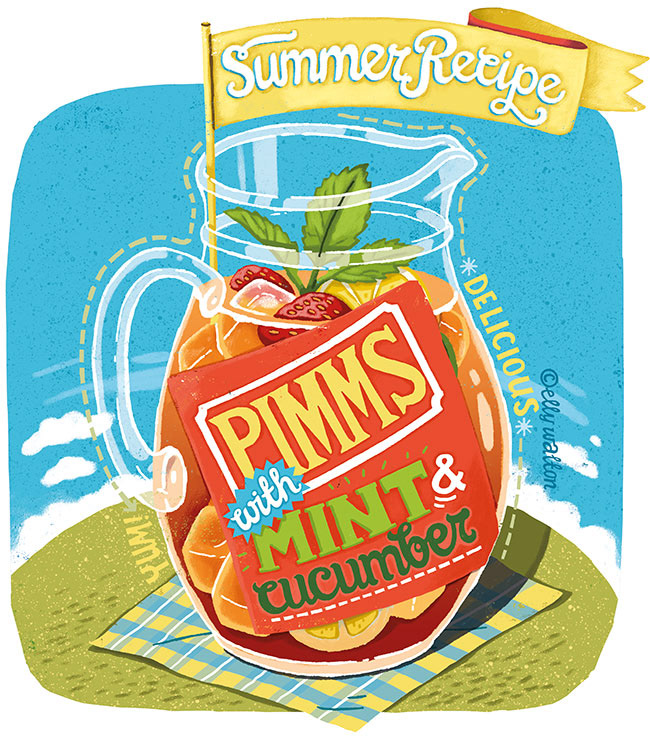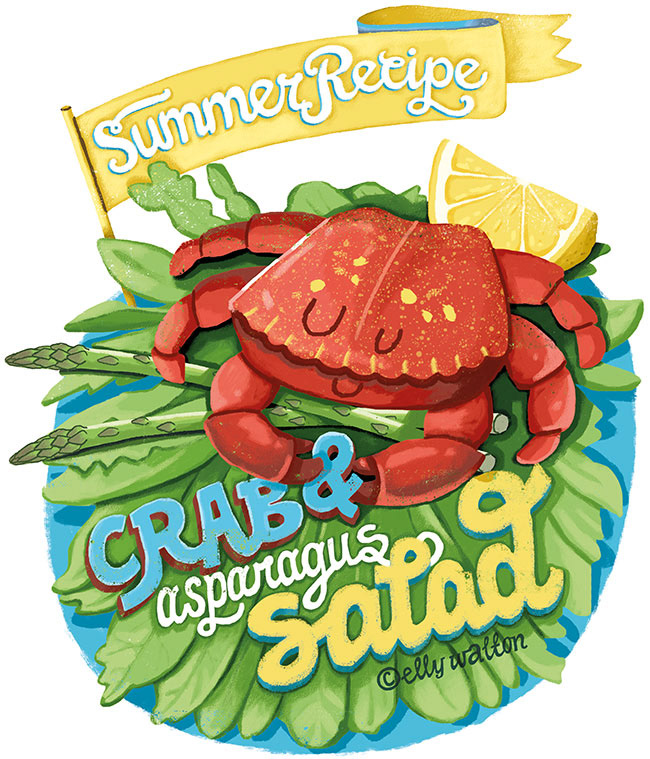 August 2017 - Times Higher Education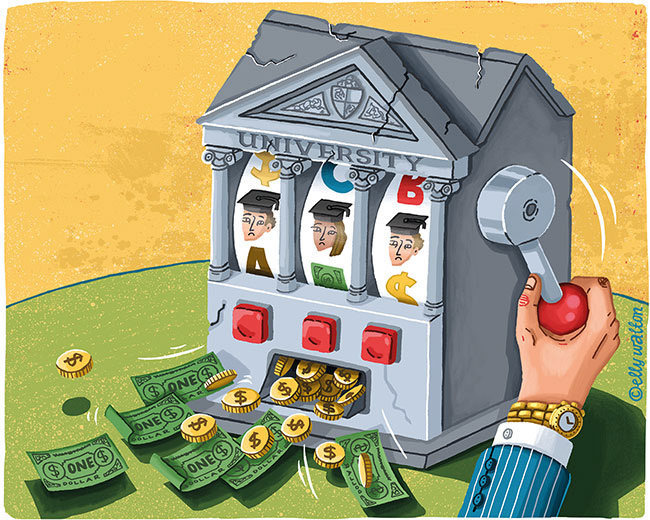 I love illustrating for the Times Higher Education, the articles are always on an interesting topic within higher education. This was for a piece discussing for-profit universities in America and the worry that this leads to a poor quality of education for its 'clients'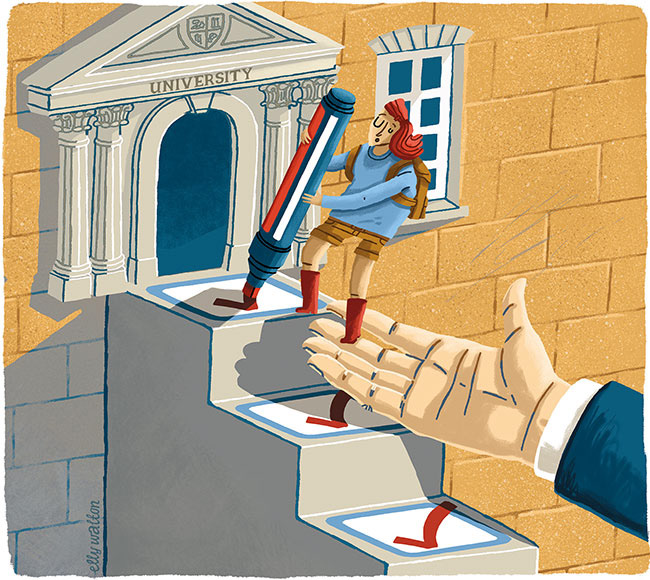 This was for a piece on being prepared to enter university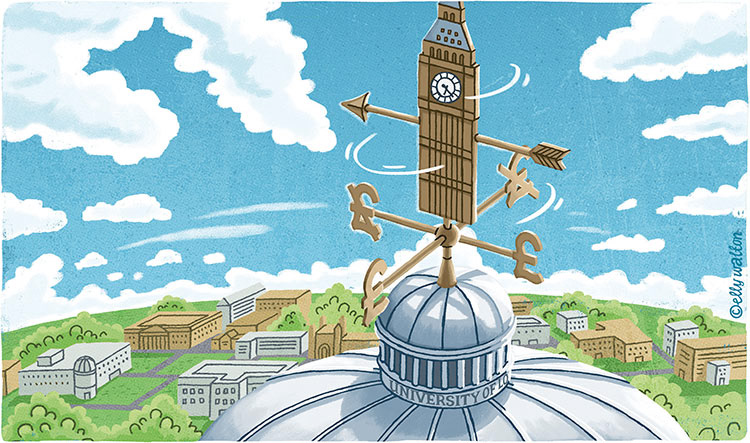 For an article discussing the government's wavering over the issue of tuition fees