Sept '23 - Editorial illustration

Sept '23 - Editorial illustration, a woman smashing through the 'glass ceilings' to reach the top of her organisation

June '23 - Orlando Helicopter Adventures asked me to illustrate their tour route map, adding in all the fun theme parks they fly over on their tours

May '23 - Park and Walk carpark near Bristol airport asked me to illustrate a map of the walking route from their parking area to the entrance to Bristol Airport

March '23 - A series of spot illustrations on the subject of money management, done in my 'outline' style

January '23 - Laithwaites Wine Festival with Oz Clarke. This was a lovely job to illustrate a double page spread for the Laithwaite customer catalogue, advertising the up-coming wine festial and also I made this speculative animation for their social media campaign

December '22 - Reader's Digest asked me to illustrate their December cover again this year and I came up with this cosy fireside Christmas scene

December '22 - Petplan asked me to illustrate a series of spot illustrations of dogs, cats and rabbits for their fun Christmas multiple-choice quizzes. See the full set in the main page of my site

November '22 - I was asked to create a fun set of spot illustrations showing the evolution of the whale into its modern form for "Whale & Dolphin" and "Splash" magazines, here's the double page spread from Splash showing all of them as a set

 Aug '22 - Ask magazine for kids wanted me to illustrate this fun double page spread on the different types of island and how they are formed!

August '22 - Reader's Digest UK, illustration for the regular "It's a Mann's World" column, Olly Mann talks about how he loves to try out the latest products and find his favourite!

May 2022 - Pups In The Park: an illustrated map for a dog show event in Dublin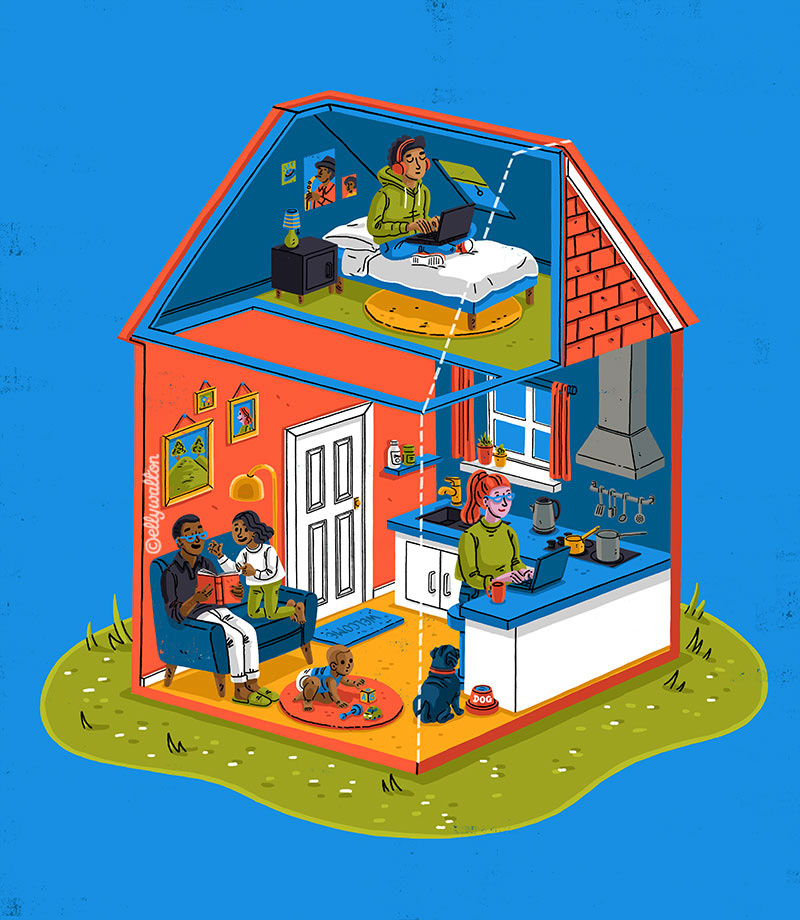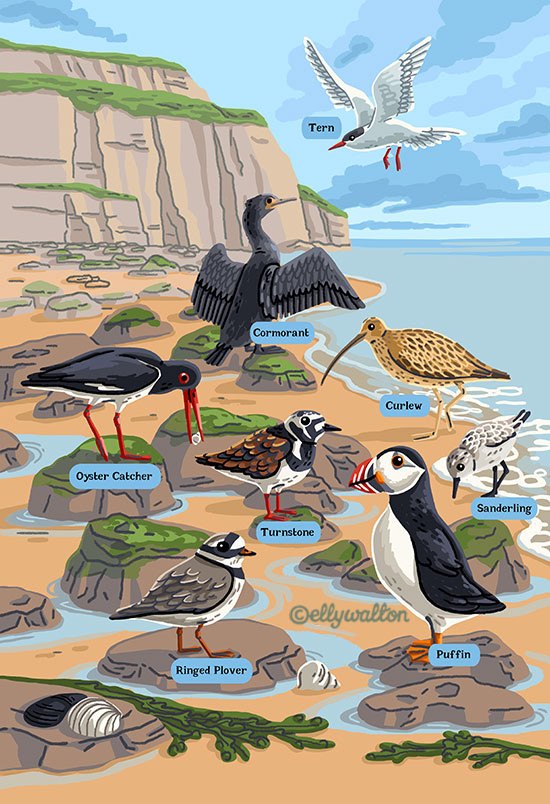 Jan 2022 - Illustrated scenes of gardeners for US gardening and plant supplier "Burpee"

December 21 - Reader's Digest Christmas cover illustration

November 21 - Petplan website illustrations

October 2021 - Courier Magazine illustrations

I was delighted to be asked to illustrate a series of articles in Issue 43 of Courier magazine on starting up different creative businesses, including starting a record label, which the illustration above was for

August 2021 - HR Magazine cover

May21 - Tesla "Cyberland": Concept theme park map for Digital Impact agency

This was an incredibly fun commission to illustrate a concept Tesla theme park map, featuring some of the Tesla brand ideas made into fun rides!

May 2021 - Editorial illustration, different forms of exercise you can do anywhere

May 2021 - Editorial illustration on the plus points of video calls
March 2021 - "Working together" editorial illustration

February 2021 - Lichfield City vector tourist information and historical map

Jan 2021 - Reader's Digest UK feature illustrations

Reader's Digest UK asked me to illustrate several pages for a feature on immigrants' experiences of finding their idea of home whilst settling in the UK

Jan 2021 - Working at home!

Jan 2021 - Personal promo image

December 2020 - Laithwaite's promotional Thank You postcard

It was a joy to illustrate these little portraits of Laithwaite wine-makers from around the world for the Laithwaite's Thank You postcard sent out with wine orders this Christmas

December 2020 - Royal College of Speech and Language Therapists

These are the last two in a series of 12 website illustrations to celebrate the RCSLT's 75th anniversary year, each one to discuss a different month's theme, all around the idea of speech and langugage therapy

 November 2020 - Lawrentian magazine illustrations

 The school asked me to illustrate the cover and inside feature for their back-to-school issue following a term away from campus due to the Covid pandemic. The issue covered topics like virtual learning and how to keep students safe on their return

September 2020 - Royal College Speech & Language Therapy

RCSLT have kindly asked me to illustrate a different theme every month on their website, to celebrate their 75th anniversary year. Above are three of the recent pieces I've done for them for June, August and September on themes of "Lifelong learning in speech and langugage therapy",  "Speech and language therapy around the world" and "Celebrating service users"

May20 - The Lawrenceville School campus map

June20 - Highlights magazine

So fantastic to be asked to illustrate this fun map of the Yellowstone Trail for US kid's magazine "Highlights". The trail was one of the first cross-country roads in the US, so I got to draw people in early 20th century costume and a Model T Ford!

May20 - BBC Wildlife magazine

A fascinating feature in BBC Wildlife magazine, about being able to trace evidence of animals through environmental DNA

April 2020 - Nursery Management magazine

This cover illustration was for a piece on looming funding cuts in the nursery sector, worrying times ahead

April 2020 - Reader's Digest UK, Olly Mann column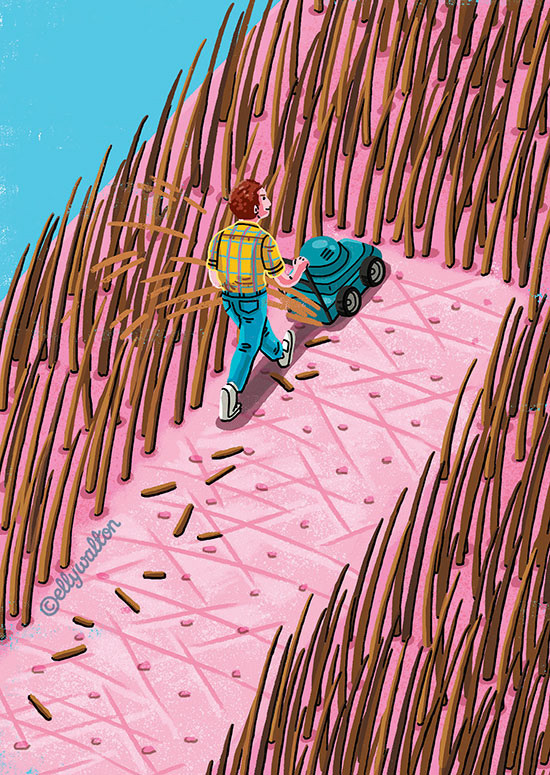 An illustration for the "It's a Mann's World" column by Olly Mann, on his problem of hair removal

April 2020 - Washington DC, Downtown map

 March 2020 - RCSLT 75th anniversary poster

As part of the RCSLT's 75th year celebrations, they asked me to illustrate an A2 poster for their members, featuring some of the famous people who have had therapy, the services the college provides, and their service users, in a fun, engaging image

March20 - RCSLT website illustrations

The Royal College of Speech and Language Therapists have asked me to produce an illustration for their website for every month of 2020, to celebrate their 75th anniversary year. February's theme was on love of the profession and the people that use speech and language therapy services. March was about the women that work in the profession and their future in the role

Jan 2020 - Escape magazine, map of South West UK

December 19 - American Way magazine, South Florida map

October19 - Aer Lingus inflight magazine; map of Fishtown area of Philadelphia

October19 - Print Week magazine feature

September19 - Summer Picnic spot maps

August 19 - Timeout London and TFL
Loved illustrating this series of small maps for a Timeout/TFL guide to arty walks around London

August 19 - Reader's Digest, Olly Mann column

Olly Mann does a regular column in Reader's Digest, on various crazy things that have happened to him. In this column, he talked about his feelings on the impending arrival of his second child

July 2019 - Hand lettering headline

June 2019 - Spider kids' magazine

A lovely commission to illustrate some of the answers to a quiz about words with a double 'm'. I had totally free rein to show the anwers however I wanted in this border illustration, and I thought it would be fun to fit them all into one summery holiday scene

June 2019 - Aer Lingus inflight magazine

A little illustrated map of the Karolinenviertel area of Hamburg highlighting some little tourist hotspots!

June 2019 - Reader's Digest Cover

Another wonderful opportunity to illustrate for Reader's Digest, this was for their Grenfell Tower two years on feature, a sad and sensitive subject. The Art Director wanted to highlight how the community has come together to heal and look after each other since the disaster, so we worked with the Grenfell green heart icon to show members of the community working together

April 2019 - Aer Lingus inflight magazine

Great to be asked to illustrate this dps map for the new-look Cara magazine of an area of Boston

April 2019 - Loire Valley Map

April 2019 - Print Week cover illustration

Fun to illustrate this issue of Print Week magazine on the subject of cyber attacks! The art director requested an image of a phone being hacked into in some way and I came up with this idea of a dangling thief breaking into phone apps like secret files!

March 2019 - Map Illustrations for Timeout London

It was an epic but fantastically enjoyable task to illustrate 7 little maps in under a week for a special walking feature in Timeout London

March 2019 - Map Illustration for Timeout Glasgow

It was wonderful to be asked to illustrate a series of tiny galleries for a special feature in Timeout Glasgow on places to enjoy a cultured weekend

February 2019 - Map Illustrations for Reader's Digest UK and Billboard magazines

Who wouldn't love the chance to draw Prince, not once - as in the map above for Reader's Digest, for a feature on driving the Great Lakes region of the US - but twice! Below is a map for Billboard magazine, for a feature on the upcoming Grammy awards and things to do in LA whilst you're there, including catching Purple Rain at the Rooftop Cinema!

November 18 - Reader's Digest Cover

It was such an honour to be asked to illustrate the Christmas Reader's Digest cover! The Art Director requested this fun scene of Trafalgar Square with the tree all lit up and sparkly

November 18 - RCSLT Site illustrations

The Royal College of Speech and Language Therapists have recently updated their website and asked me to produce a few illustrations to accompany their 'About Us' and 'Become a Member' pages. I used their logo, which is made of dark and lighter blue squares, as the theme of the illustrations

November18 - Wings magazine

Apparently there is such a thing as a surfer's hotel that travels around on the back of a truck. The Art Director gave me free reign to interpret how it might look so I went for a kind of retro 1960s American motel as I thought that's the kind of style the surfer dudes might be into :)

November18 - Print Week Cover

As Brexit looms ever larger, a cover for Print Week discussing the possible outcomes of the talks in Europe and what this means for print professionals buying products from Europe

October18 - Times Higher Education

An opinion article for the Times Higher Education magazine, discussing the increasing number of short-term contracts offered to academics and university support staff and the need for all to work together to improve them

This was another idea that didn't make it for the Times Higher article on contracts but I thought I'd work it up to final stage. Here I was trying to show the idea of people working together to get rid of zero hours contracts

November18 - BBC Wildlife Magazine

What a treat to illustrate little critters for this great article on bringing wildlife back to urban gardens, for BBC Wildlife magazine

August 18 - Orlando Magazine Cover

I loved illustrating this cover for Orlando magazine's August issue. They wanted the whole cover illustrated, including the cover lines and headline, as though it was a treasure map of the "Best of Orlando"

August 18 - Brittany and LA Maps for travel magazines

July 18 - Nestle Koko Krunch Advertising Competition

This was a really fun challenge to illustrate four extremely detailed scenes from four specific locations - the Amazon Jungle, Antarctica, the Great Barrier Reef and the Serengeti. The client wanted lots happening and their character "Koko" hidden somewhere in each location for the customer to find

June18 - Waitrose Weekend Maps

A few more in my regular series of maps for Waitrose Weekend, highlighting foodie and tourist point of interest